Latest
May 20, 2022
For most harpists, their harp is a lot more than a tool. It is imbued with its own personal layers of meaning, often needs considerable sacrifices to acquire, and is precious in many ways. We have made a special Vendôme harp for Astrid Walschot-Stapp, decorated with dragonflies after a design by her friend Indi Miscolczi.
Dragonflies are commonly said to symbolize change and transformation. On a private level, Astrid's late father loved them. She recalls how "they were always flying around the pond my family would swim in during the summers of my childhood. It was in a beautiful forest where my father found a lot of peace. Later, when my father was dying and I was an ocean away, a red dragonfly appeared in my living room. It flew around me to attract my attention, then sat down on a picture of my father and me. We have never had a dragonfly in the living room before or since. Later, I found out that the Native Americans perceive red dragonflies as the souls of the dead, symbolising that a soul is free.
So this is why I wanted dragonflies painted on my Vendôme harp, signifying the deep connection I have with my father. Camac sent me the pictures of the finished harp on October 14th – my father's birthday!
Astrid has been through a lot in her life; her daughter was seriously ill as a child, and she herself suffered from long-undiagnosed Lyme disease. This also meant that for a while, she could not play the harp at all. "Lyme disease wasn't recognized by my medical insurance, so I also couldn't get treatment. In the depths of despair, after a deep personal prayer, I felt God reaching out…and was suddenly filled with an overwhelming sense of peace. The very next day, I came across Stephan King's Haven Foundation. It supports freelance artists who are unable to work due to accident or illness, and they funded my recovery."
While she could not play, Astrid was comforted by being able to compose, including a new album, Out of the Silence, dedicated to her daughter. She is also now publishing sheet music with Afghan Press. "Dragonfly" is the first piece, dedicated to her father! "My father also foresaw my daughter's illness – while reassuring me that everything would be all right in the end. Both he and my daughter had near-death/out-of-body experiences and described feelings of intense peace and heavenly places."
"Dragonfly", recorded by Astrid on her Vendôme harp. Get the score from the Camac webshop!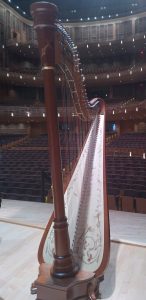 Astrid's new harp has also already been out and about and is pictured here ready to perform Mahler's 5th Symphony with the National Philharmonic.