1 Man Band: new album from Ben Creighton Griffiths
News
March 22, 2017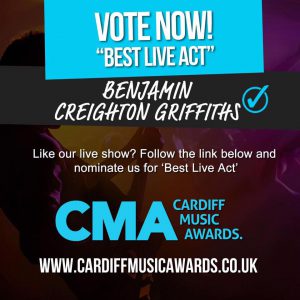 We have long been big fans of Ben Creighton Griffiths.  He's now up for 'Best Live Act' at the Cardiff Music Awards! Voting is now open here; Cardiff-based readers can also buy tickets to the awards ceremony on March 30th.
Ben has also just released a new CD: 1 Man Band. Ben has been working a lot with his blue harp, synths and keys, creating a whole band while often remaining the only performer. We have enjoyed these sets several times – in Cambridge, Prague,  Cardiff and Utrecht, to name but a few – and now you can buy the album. "For this recording, I was not aiming to make a harp CD, a jazz CD or even a jazz harp CD", Ben explains. "1 Man Band is a snapshot of where I am at this point in my development as a musicians – a showcase of what I'm enjoying doing at this moment in time…I've taken blends of some genres that I love (like gypsy jazz, reggae and funk), utilised both electronic and acoustic music, and included a variety of different tones and timbres reflecting the live music I perform."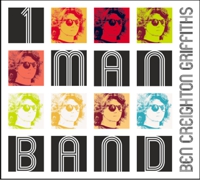 1 Man Band is largely a solo disc, but Ben is joined by Matthew Williams on percussion and drums for the final track on the album: 'The Station', composed by Ben and Matthew together. "While this track belongs to another project that is currently in the works, I wanted to provide it as a preview. My great friend Matthew Williams and I have created a group called Chube – rather than being a regular band, our aim is to be the nucleus of a group of like-minded musicians writing, arranging and recording tracks together. This group-based work is something that I feel will give me more opportunities as a composer as well as a performer, and we look forward to developing the project during 2017."
1 Man Band is available from Ben's own e-store – and of course, from the Camac online boutique!