Anneleen Lenaerts: Harp Concertos
News
April 3, 2015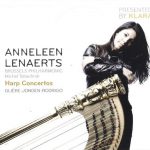 Released by Warner Classics, this disc of concertos by Glière, Rodrigo and Jongen with the Brussels Philharmonic is not to be missed!
Anneleen writes: "The harp repertoire is far from inexhaustible, but this recording has allowed me to select three important works. The Glière concerto is technically highly exacting, and I like how it allows the Romantic harp to shine, in all its facets.
I want to enable video content and agree that data will be loaded from Google (see
Privacy Policy
).
"The harp transcription of Rodrigo's Concierto d'Aranjuez shows this famous guitar concerto in a new light. And for me, the work of Joseph Jongen is the most unique of all. Jongen is without doubt one of Belgium's most important composers, and he has written splendid pieces for the harp. A harpist himself, he wrote his concerto for Mireille Flour and until now, only she recorded it. Recordings of this concerto are practically unknown in the harp world, and I hope to draw attention to the work once again."