Latest
March 8, 2022
Josh Levine, Parker Ramsay and a Camac blue harp are in residence at IRCAM in Paris. Their focus is "Anyway", a new work by Levine for electroacoustic harp and electronics.
It all started when Parker Ramsay decided to commission a work for harp and four pipe organs. His goal was large-scale and typically ambitious, "and it was a fantastic idea", says Levine. "But I wasn't sure the world – or I – was ready for such a scoring." Over coffee in Oberlin, Ohio where Levine had been teaching composition and Ramsay was studying historical keyboards, they decided to reframe the idea: a work involving electronics where the harp interacts with a large, variable space. Amplification would permit them to magnify the aspects of the harp that are audible to the harpist but not – usually – to the audience sitting a few metres away, while digitally processing the harp's sound and introducing recorded sounds from other sources would further expand the "psychological space" of the musical experience.
These ideas are now being realised over the course of three residencies at IRCAM in Paris, one of the world's preeminent sites for computer music research and creation. The first has just been completed.
Josh Levine, who has been composing with electronics since the late days of tape music, conceptualised the piece in writing before he started to compose. "That's a bit unusual for me, but I needed to clarify to myself the significance and role of the electronics, especially the expressive nature of its relationship to the harp. I wanted to avoid wandering into the mishmash of effects that electronic music sometimes suffers from", he explains.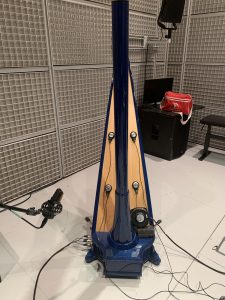 The exceptional quality of the blue harp's pickup system, with a piezo microphone on every string plus the soundboard, has fired Levine's imagination. "The potential for transforming what's played live is augmented by the sensitivity of having 47 individual transducers. Parker can pluck a note that will seem to bend in pitch or have an inharmonic bell-like resonance, that causes other notes to sound elsewhere in space and time…the list of possibilities is endless. Thus distorting the usual reality of the harp, but also disembodying it by, for example, separating resonance from attack and displacing it in acoustic space, will be core tasks of the electronics in this piece."
When Parker Ramsay first approached him about writing a piece, Levine had recently experienced the passing of his father. "I watched my father enter a state of being that seemed increasingly surreal. He had always been a great storyteller, drawing out jokes longer and longer, for effect. As he was dying, he seemed to do the same. His voice got weaker and he appeared to experience a progressive disembodiment of mind, marked by ever freer associations between different paths of thought, remembrance, and imagination.
It was like a gentle, infinitely long decrescendo, or maybe like watching a boat drift slowly, slowly away. After my father had gone, I wrote a poem dedicated to his memory called 'Anyway', which is the last word he spoke to me. This poem is in many ways a foundation of my eponymous piece – even in the way, much like the harp's resonance, that it freely fades away."
At the time of writing, Levine and Ramsay have just completed their first week-long residence at IRCAM. Accompanied by sound engineer João Svidzinski ("indispensable", Levine and Ramsay chorus), they have explored distortion/modulation techniques, microtonal transpositions, pitch-bending and other destabilizing effects. "We'll also try to find a way to isolate high partials of individual harp strings, shift them in space and register, and weave them into frayed remnants of a lullaby that the electronically transformed instrument "sings" to its own accompaniment", says Levine. "In thus coaxing song from within its spectrum and uncovering the harp's immanent vocality, my hope is to create a palpable link between the piece and the poem that inspires it."
Anyway is further inspired by the baroque tombeau, which originated in France in the 17th century. Levine has been drawn to the tombeau form since discovering Weiss' famous lute composition, 'Tombeau sur la Mort de Mr Comte de Logy', as a teenager.
Ramsay's other specialism is early music, and he found himself musing on the historical perspective that "tombeaux beget tombeaux. Froberger wrote some, then other composers wrote tombeaux for him, Rameau wrote one for Couperin, and so on…Bach quotes one of Marin Marais' tombeaux almost exactly at the opening of the St Matthew Passion. I find it interesting how musicians memoralise musicians who have memorialised, if you see what I mean." Both Anyway's harp and electronic parts incorporate tombeau elements, like pedal tones and ostinati, and "spectral glimpses" of Froberger and Weiss. "Their pale presence will," Levine hopes, "open a portal to a still deeper pool of remembering and memorialization."
Next up: a second IRCAM residency, building on the work of the first exploratory one. "I do a lot of creative harp projects", Ramsay enthuses, "but this one has an exceptional level of specificity and care. I think it's fair to say that most composers who've taken a serious interest in the harp have worked closely with a harpist and it's a great process for both of us, with discovery on both sides. I love to work with non-harpists because they always show me something I don't know. In addition, Josh is a fantastic guitarist so he has a strong affinity with plucked instruments." Levine concurs about the learning: "I've had to revise some of my ideas, of course, which has also led to the discovery of new horizons.
For example I had been fantasising about electroacoustic muting, I thought we could potentially isolate strings from each other thanks to the individual pickups. That's not possible because the harp's resonance didn't read the manual."
"I've had to leave a lot of my pride at home", Ramsay adds. "As a classical harpist you spend your life trying to hide finger noises and uncontrollable resonance…this is a very different project to the Goldberg Variations I did before the pandemic. There, my task was to appropriate Bach's text for the harp. Here, the harp is a tool – one that three actors are working on and working with over multiple periods – to serve a wider purpose. This wouldn't be possible without IRCAM's acknowledgement and support of this creative process."
Levine and Ramsay should be back in Paris for their second residency in October 2022. What will happen? We shall continue to report.