News
January 12, 2017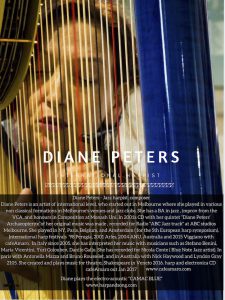 Verona-based, non-classical harpist Diane Peters has released another album today: the self-titled cafeAmaro. Out on Believe Digital, cafeAmaro is a harp and DJ/keys project, Diane's debut recording in duo with Andrea Ponzoni. A constant exploration of harp and electronica, its all-original tracks transcend genre, floating between ambient, soundscape, electronica, nu-jazz and pop, and based on the duo's live shows. "There are also lots of guest artists, because we are both  composers and can't resist adding new elements", Diane explains, "but Andrea and I have really created the album as a core duo project. We've worked together for many years and given many concerts. We've been saying "we must record, we must record…for ages, and finally we've made it into the studio and set down some of our improvisations and compositions.
The live version is always an exciting mix, and the recordings reflect this – some are completely live with contemporary sound mixing; the amount of guests varies; tracks are added, removed and manipulated, all in the moment.
I play in a 25 piece multicultural orchestra with the blue harp,  which is a fantastic experience! There are also other settings, mainly jazz with strings. The whole album presents unique possibilities for the harp and sound design. I'm lucky to have found this collaboration with Andrea Ponzoni, here in Italy. It is great to work with such an intuitive musician, who is so completely on the pulse with the electronica. I can't wait for the new live shows and the next recording of cafeAmaro.
I've always been a non-classical harpist, and I'm really proud of what Andrea and I have created. It's been a genuine collaboration and I love performing this duo act with the blue. I see the electroacoustic harp as an instrument in its own right – not just brought into an electronic setting for its novelty value."
You can buy cafeAmaro either in full or as individual tracks: digitally or, of course, from the Camac e-boutique!
I want to enable video content and agree that data will be loaded from Google (see
Privacy Policy
).
1. Amarone 4:02 (IT-29Q-16-00104)
2. Nostra Bossa 5:52 (IT-29Q-16-00105)
3. Dropless 4:53 (IT-29Q-16-00106)
4. Open 4 8:07 (IT-29Q-16-00107)
5. LUZ 3:34 (IT-29Q-16-00108)
6. Yin Yang 5:54 (IT-29Q-16-00109)
7. Celestial 5:37 (IT-29Q-16-00110)
8. Disk Full 6:04 (IT-29Q-16-00111)
CREDITS:
cafeAmaro
All compositions by cafeAmaro
Diane Peters and Andrea Ponzoni
Diane Peters: Harp + Voice
Andrea Ponzoni: Electronica + Keys
Guests
Violin: Maddalena Fasoli
Viola: Maria Vicentini
Flutes: Stefano Benini
Trumpet: Francesco Venturini
Bass: Gianni Sabbioni
Guitar: Tommaso Lorusso
Recorded by:
Alvaro Lanciai at MoveYourSound (Vr)
Stefano Castagna at Ritmo&Blu Studio ( Bs)
Photography: Antonia Di Bella
Graphic design: Martina Poiana
2016 cafeAmaro, Diane Peters and Andrea Ponzoni – all rights reserved