From Marie-Antoinette, to the Present: Exhibition of the Camac Collection
News
June 30, 2017
The Camac Collection, a private collection of nearly sixty historical harps, has been exhibited before – notably, at our fortieth birthday celebrations in Ancenis (2012), accompanied by texts by Laure Barthel. The same exhibition appeared during the tenth Camac Festival in Nancy (2015). Apart from these temporary displays, up until now it has been housed in a temperature- and humidity-controlled space in our Mouzeil ateliers. As of July 1st, 2017, our collection has found a new home, formally exhibited at the Château d'Ancenis.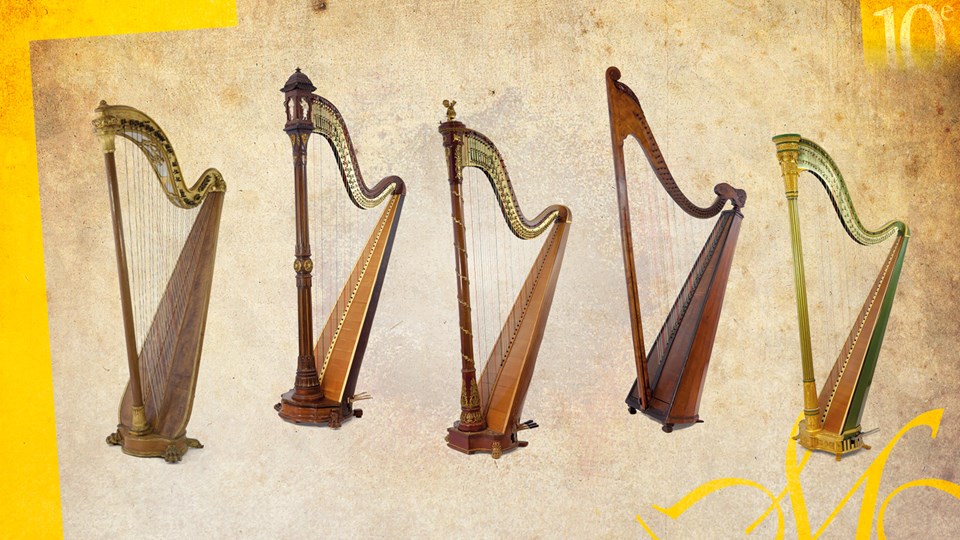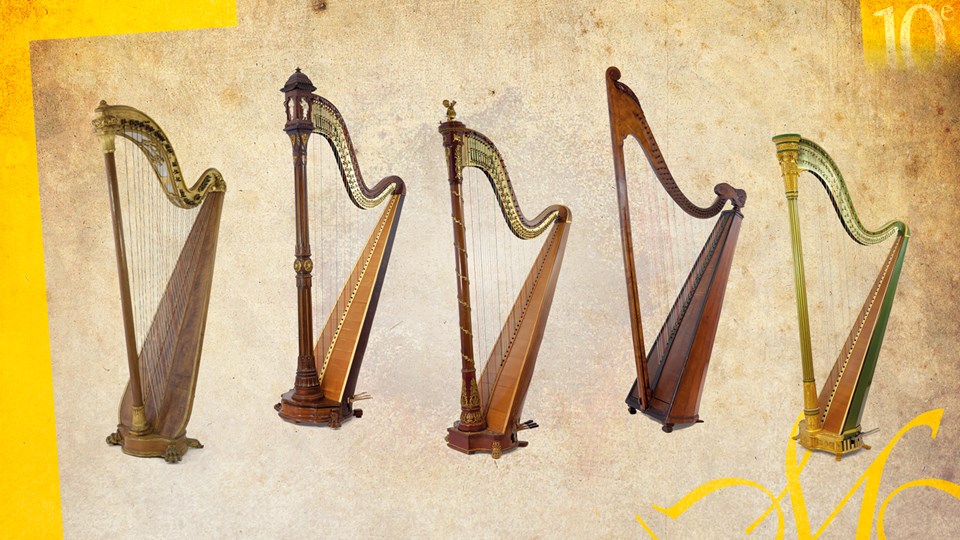 L-R: Pleyel Chromatic harp n° 262 (Paris, 1901); Erard n°2398, Japanese model (Paris, 1894); n°3969, Erard Empire model with Cupid (Paris, 1914); Henessy Hughes Welsh triple harp (Llandudno, Wales, 1896); Naderman Single-action harp n° 301, with forked discs (Paris, after 1820)
The exhibition of the Camac Collection has come to fruition thanks to our collaboration with the town of Ancenis, and curator Robert Adelson. Robert Adelson is a musicologist and organologist, and specialist in the history of the harp. Professor of Music History and Organology at the Conservatoire de Nice, between 2005 and 2016, he was also Curator of France's second largest collection of historical musical instruments, in the Musée du Palais Lascaris. Together with the piano historian Alain Roudier, he has made a particular study of Sébastien Erard. He is the co-editor of The History of the Erard Piano and Harp in Letters and Documents, 1785 – 1959: a two-volume work which reproduces much of the Erard documentation for the first time, and which is the most detailed resource available to Erard harp scholars to acquire for themselves. The Centre Sébastien Erard, established together with Roudier, remains a virtual resource, while its collection is currently on long-term loan to Alain Roudier's Association Ad Libitum.
"Jakez called me and asked me to curate this exhibition last January", Robert explains, "but in fact I have been aware of his collection for about ten years. We met in Nice, at the bicentennial of the Erard double-action harp. Like many serious collectors, the first thing Jakez says is 'I'm not really a collector', but you need to be very knowledgeable and to have a good eye to arrive at a collection like this. The harps have been well-preserved in Mouzeil, and in Ancenis we will see many of them exhibited for the first time."
"To curate the exhibition, I first went to Ancenis to see the space. It's a great size, not too big and not too small, with four connected rooms, which gives us many options for how to organise the visit. It's necessary to measure the space carefully, to decide what to put where, and then study the collection itself. We looked at every harp, measured and photographed them – this is of course particularly important for the harps that are not signed. You also have to study the condition (some of the harps are restored, some are not), and some have missing elements like stringing, which makes it hard to show them. You also have to follow each instrument's individual history, via their serial numbers – find out where they were made, when and for whom, which also helps you to understand which harps are the most important to exhibit. And then, you write the catalogue of course.
Having chosen the instruments, you must consider the best way to present them to the public. Do you want them in chronological order, or rather in geographical, or grouped according to their organological features? We have mostly done the latter, so that the visitor can appreciate the differences in the construction – although we do also have a beautiful room of African and Asian harps, so that's a more geographical focus.
What is particularly unique about this exhibition, and which you will not find elsewhere even among the biggest collections, is that you can track the history of the Celtic harp. Celtic harp history is complicated to curate organologically because it is rooted in a much older tradition, but very few instruments remain from pre-revival times. What everybody recognises as "The Celtic Revival" began in Paris and Brittany in the 1950s, and there is quite a lot of documentation and of course instruments from this period onwards. However, this is in fact a second revival, stemming from a first revival before that, when in July 1792 a group of harpers gathered in Belfast to try to preserve their dying tradition. This is the time of the John Egan harp found in the Camac Collection.
Another very satisfying aspect of curating a harp exhibition is the fact that unlike all other instruments, the harp continues to be highly decorated. This makes it delightful for the general public, but it is also of organological value. Pianos, and indeed all instruments, used to be decorated, but this practice stopped in the middle of the twentieth century. These days, you do not expect to see anything other than a black piano in the concert hall. For whatever reason, this did not happen to the harp. For example, some of the oldest harps in the Camac Collection are French harps from before the revolution – the time of Marie-Antoinette, hence our exhibition's title "From Marie-Antoinette, to the Present". The Naderman and Cousineau harps are in a typical Louis XVI style. They were designed to match the furniture! In other words, they were made to remain in a salon and not be put away in a case. The Mozart flute and harp concerto would have been performed in this context.
You can also track various changes and developments through the evolution of a maker's decorative style. Erard did away with the traditional scroll-top, and invented the Empire/Grecian, neo-classical harp style, with a rams-head pattern on top of the column. This was highly fashionable at the time, and swiftly imitated by all the other makers. It can be hard to tell one make apart from another, unless you study the mechanism. Or, Pierre Erard (Sébastien Erard's nephew) invented the Gothic harp. It was bigger, louder and its decoration has the Gothic cathedral style that was popular at the time. You see this decoration appearing in the USA, Germany and the United Kingdom, copying Erard.
In Germany at the turn of the twentieth century, you also see a very interesting decorative phenomenon. Löffler made very fine harps, including just two in Bauhaus style. The Bauhaus philosophy is that form follows function. The functional elements of the harp are therefore very present, and made to look very beautiful – big, shiny screws, for example. From our Bauhaus harp's serial number, we know that it was sold to the Deutsche Oper in Berlin, so it was clearly a high-quality instrument. Thurau still makes a Bauhaus model, as heir to the Löffler tradition.
I think you can also see, throughout the progression of the exhibition, where Camac stand as heirs to Erard. Of course, many harp makers can be seen as following in Erard's footsteps, because his double-action patent is still the benchmark today. But Erard's mechanism was not his only defining feature: he was also an incessant inventor and researcher, constantly seek to improve the harp's sound and design. When I watch Jakez work, there is a positively obsessive quality I also associate with Sébastien Erard. The title of the exhibition is 'to the Present', but maybe it should really say 'to the future'. The adventure is not yet over.
Whether or not one realises it, as performing musicians we are also always in touch with the music of the past. If you get your scores out of your bag, you will probably have some Bach – classical musicians, your lives are to be in touch with history, and an art form that comes from generations ago. It's humbling to set oneself in the progression, and see that the course of history doesn't stand still."
You can download the catalogue below – but it's even better to come and see the collection for yourselves! The exhibition is open from July 1st, 2017.
Trésors de la Collection Camac (PDF, 10.8 MB)