The Charles Overton Group debut album is out!
News
September 19, 2017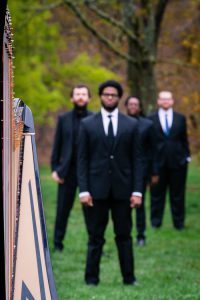 We are very proud to have sponsored 'Convergence', the debut album of the Charles Overton Group. We discovered Charles at the Camac Festival USA in California last year, and were bowled over. He masters standards you'd never dream possible on the harp; effortlessly reinterprets other styles, from Irish folk to 60s pop; and is equally eclectic within the jazz spectrum, ranging from lyrical simplicity to inquisitive, dissonant sound worlds. 
Together with saxophonist Gregory Groover Jr., bassist Max Ridley, and drummer Peter Barnick, the Charles Overton Group offers a fresh take on the traditional jazz quartet.  The group began in February 2014 as a duo project of Charles Overton and Peter Barnick, both graduates of the Interlochen Arts Academy, with Max Ridley and Gregory Groover Jr. joining the project later on after their paths crossed with Overton as students of the Berklee Global Jazz Institute.  Since then they have made a name for themselves in Boston, starting with headlining their own show at Sculler's Jazz Club in April of 2016.  Further afield, they'll be headlining in DC, at our French festival in Lyon, and will also be appearing later in 2018 – watch this space for news! 
I want to enable video content and agree that data will be loaded from Vimeo (see
Privacy Policy
).