Dasson An Delenn: sign up now!
News
January 9, 2019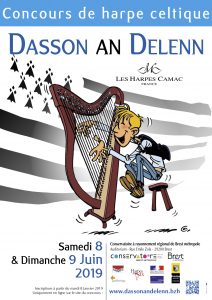 You can now sign up for 
Dasson An Delenn
, our competition dedicated to the lever harp in Brittany. 2019's edition will take place on June 8th and 9th, at the Brest Conservatoire. The competition is open to harpists aged under 21, of any nationality. Candidates will perform a (public) programme inspired by Breton music, be this original music, or arrangements. The competition hopes to offer students and teachers a supportive and enjoyable weekend in the service of the lever harp, and with plenty of opportunity to meet each other, exchange ideas and make friends. 
There are four categories according to candidate ages and stages, from beginner to advanced. There is no minimum age in any category, and it is possible to compete in more than one category. Because places are limited, candidates will be accepted on a first-come, first-served basis – so get your form in early!
The application form is open from today, January 9th, online on the competition website. You can also download the poster, flyer, and inform yourself about the programme, prizes and other practical information.
We would like warmly to thank the directors and staff of the Conservatoire à rayonnement régional de Brest métropole, the Town of Brest, the civic authorities of the Finistère region, the DRAC of Brittany, and our partners Savarez and Galli strings, for their support for our initiative.