New harp horizons with Frédéric Bougouin
Latest
January 12, 2023
I want to enable video content and agree that data will be loaded from Google (see
Privacy Policy
).
"Alan Stivell, Myrdhin and Rüdiger Oppermann changed everything", Frédéric Bougouin recollects. "When I began the harp as a child, nobody really talked about the small harp, and I spent some of my adolescence playing guitar in rock bands instead. But like many harpists of my generation I was hugely influenced by Stivell's Renaissance de la Harpe Celtique, and later Myrdhin's Courir le Guilledou and Harp In Aquarius…Oppermann's fusion with rock and blues, too. I was blown away when I heard these artists. The sounds were magical, they transported me to another world. I was already playing on a harp with nylon strings, but without question I just had to try the metal strings too! Camac made me a metal-strung harp in the early 90s, I'm glad to say. It also transformed my playing, because in order to be able to play on both types of harp I decided to play with my nails in the right hand, and without them in the left."
It's not just the contrasting colours of metal and nylon strings that make Frédéric's music stand out. "I'm really not predisposed to any one type of music", he explains. "I'm a huge fan of Purcell, of early music and classical music in general…and also of ACDC, Led Zeppelin, Pink Floyd…some of my music draws inspiration from the electric guitar and tries to bring that sound out on the harp, like "ElectricStar". I might be enjoying jazz, rock, Stravinsky…I've always devoured music's variety. When I was very young my parents had me listen to a South American group and I still remember the elation in discovering another new type of musical expression, and incorporating it into my own music."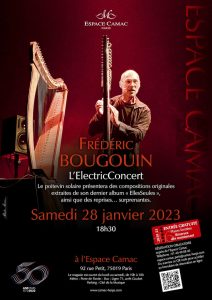 On January 28 at Camac Harps Paris, Frédéric will present music from his latest album, "EllesSeules". EllesSeules brings together some of the artist's favourite compositions from throughout his career and, as its title ("They Alone") suggests, recreates his unique oeuvre on three harps alone: "I wanted to combine the electric harp, the nylon-strung harp and the metal-strung harp because they each take us to completely different worlds. It's an album about harps, not the harp. Harps are so varied across the world, and so are their sounds. I thought I could distil some of that into an auto-production. What's special about this album is that all its sounds come from my harps, their strings, their bodies and their percussive possibilities."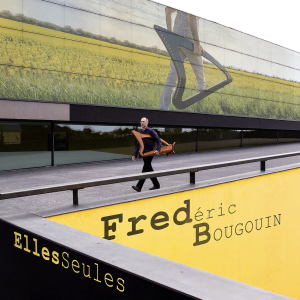 EllesSeules is not only eclectic: it's surprising. Listening to Ozone N'Fré, a track with powerful African influences, if you didn't already know it's a harp track, you wouldn't necessarily know. "Don't get me wrong, I really love direct performance", says Frédéric. "The direct attack of a harp is irreplaceable – you can model it, but it's never the same, I don't think so anyway. So very natural harp sounds are a big part of EllesSeules. But I try to put these together with transformed sounds, and then the audience can discover the harp in ways they never previously imagined. I always try not only to take the audience on a varied journey, but to surprise them. Travel is about discovery, right? If I can take listeners by surprise and they're willing to be taken, it's good."
Frédéric's show at L'Espace Camac will start at 18:30, and you'll have a chance to meet the artist and pick up a signed CD as well! It's free of charge to come, but please book your seats here or by contacting Olivier and Laurent on [email protected] / +33 1 40 40 08 40.