Eduardo Betancourt: Ad Libitum
News
September 22, 2016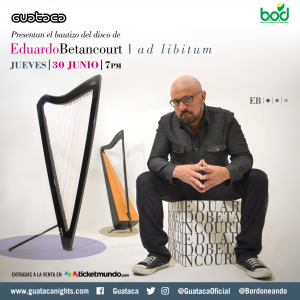 Speaking of our llanera harps – Eduardo Betancourt has had a great launch of his album Ad Libitum. It took place at the BOD Cultural Center in Caracas on June 30th, supported by Guataca Productions.
Ad Libitum is Eduardo's first album and we are very proud that it's been recorded on both our llanera models: our acoustic E C Llanera, and our EL electric llanera. In the album, Eduardo capitalises on the luthery work we did with Edmar Castaneda. Edmar wanted to add levers to the traditional llanera build – making much faster chromatic shifts possible, and allowing artists to explore and fuse a much wider range of styles. "These harps are a real breakthrough", says Eduardo. "You can modulate without having to retune, or change pitches approximately by stopping the base of the string with your finger (which is what is done with the traditional llanera). I honestly think anything is possible now, I can play whatever I want. Not reggae, because I don't like reggae, but that's a personal reason – it's not because it's not possible." Ad Libitum experiments with traditional llanera forms such as joropo, but also  includes interpretations of other genres that are not commonly so associated with the instrument – for example, zuliana dances, Venezuelan meringues, New Wave, fusion, dance and electronic music.
Nine out of the eleven tracks are entirely Eduardo's own compositions, and they feature a wonderful lineup of special guests – including a duet with none other than Edmar Castaneda himself. There is even a Camac Dance, a dance track. We're pretty overwhelmed to be part of this fantastic album in this way.
Ad Libitum is widely available from iTunes, iChamo, Spotify, CD Baby, Amazon…and of course, the Camac e-boutique!
I want to enable video content and agree that data will be loaded from (see
Privacy Policy
).