Latest
February 16, 2023
Harpes au Max began life in 2016. We had, in 2012, celebrated Camac's 40th anniversary in Ancenis-Saint-Géréon, the nearest town to our offices and workshops in Mouzeil. Harpists from throughout the world joined the party, the sun shone constantly, and we were wonderfully supported by the civic authorities and a plethora of volunteers from our region.
I want to enable video content and agree that data will be loaded from Google (see
Privacy Policy
).
Following this, the same civic authorities decided to launch their own harp festival, and Harpes au Max was born! For four days in May, harps well and truly take over the town, and many of its surrounding villages and community centres besides. We get to experience everything and everyone from the greatest classical stars, to jazz, Celtic music, harps of the world, storytelling and film. There are events for children, outreach concerts in hospitals, nursing homes and shopping centres, lectures, dances and magical mystery tours. Our entire community comes together for this brilliant long weekend: the "front of house" team you know from harp events across the world or from contact with our offices, our master artisans and their families, our family of distributors, and above all the supportive and enthusiastic general public.
We provide the harps and Jakez François the artistic direction, but it is the COMPA together with the town of Ancenis-Saint-Géréon who make it happen. As Harpes au Max enters its third edition, they've also been known to beat us in displays of general expertise about the harp on more than one occasion.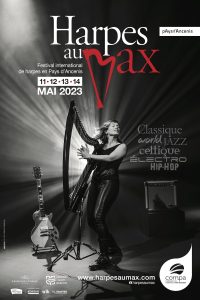 What's on the programme in 2023? This is now announced here on Harpes au Max's website. Isabelle Moretti will present "La harpe et la bête", a recital themed around the harp and animal photographs by Vincent Munier, with music from Bach to Breschand. Other classical artists include Chantal Mathieu and Alexandra Bidi, Andreï Olaru and Hyejin Kim. There's also harp and poetry slam, in picturesque Oudon. For harp and electro, look no further than the Association Bruderschaft and M'Michèle Trio. We also have Chocho Cannelle (starring our Electro Llanera, in the skilled hands of Camille Heim); a fascinating combination of classical and Gabonese harps, saxophone and dance; the Finnish kantele, the Burmese harp, the sacred Ngombi harp, the Colombian llanera…not to mention the harp classes of the region's music schools, a wealth of open-air performances in the festival village, and more!
Mark your calendars! The box office will open on March 28, and the intermunicipal tourist office will assist you with further guides to our lovely region. We can't wait to welcome you!