Jessica Browning: "Into Me Sea"
Latest
March 24, 2021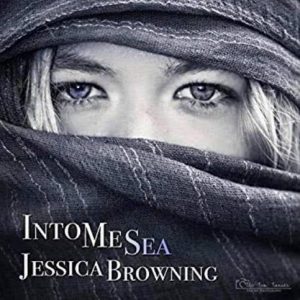 Shortly after Jessica Browning performed at our Camac Festival in 2019, she and her husband set sail across the Atlantic – with two harps on board! It was an adventure in more ways than one: a couple of weeks after arriving in Martinique, Jessica gave birth to their son, Rumi. They are currently living on their boat in the Caribbean.
On March 27th, there'll be a Facebook live launch party for Jessica's new album, Into Me Sea. It's a beautiful mixture of song, the DHC electric harp, heartbeats, the sounds of the ocean, and the voices of her husband and baby. You can buy it – of course – from the Camac online shop! 
All the songs have stories behind them, and Jessica has told us more! From the deck of her boat in Martinique, she writes…
"I wrote "Wonder Boy" when Rumi was 3 months old. We were in Anse Noir, a tiny enclave in Martinique, with rich black sand and a safe haven for endangered sea turtles. Rumi was asleep next to me, and I was improvising on my Camac DHC harp, watching the turtles poke their heads out of the turquoise water. The song flowed out of me and in the final version we added sounds of Rumi's first cries and my husband, Pierre, speaks words in French. It is a collective song for how our family emerged."
I want to enable video content and agree that data will be loaded from Google (see
Privacy Policy
).
"Wild (Birth Song)", I wrote about giving birth to Rumi. I went into a meditative state and felt like the veils between the worlds were very thin. I felt powerful, and in connection with all women who have given birth before and after me. It's a song about letting go for new life to come forth.
"Sweet Water Eyes" was a fun song to make. Rumi's voice is the percussion instrument for the song. The melodies are two different lullabies that I wrote while trying to rock him to sleep. It's one of the more funky songs on the album and I love it.
"I can only sail" I wrote when we were stuck in lockdown in Martinique. I wrote the song a capella, using the boat's pully system as the percussion. It's a simple song. In it, I sing that no matter where I am in the world, my heart is always connected to those I love."Take Me to the Sea", I also wrote a capella, splashing my feet in the water with Rumi.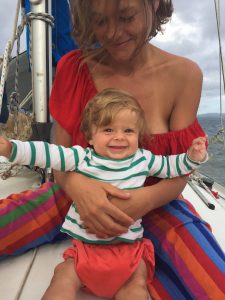 "The Dolphins Cried", is one of my favorite songs in the album. It speaks to the ocean of love I feel for my son. I wrote the melody while sailing at night, during one of my watches between the Canary Islands and Cap Vert before Rumi was born. When the dolphins come at night, they are like glissandos in the water. The plankton on their skin make them bioluminescent and they glow like shooting stars. It is a miracle to see, and it is exactly how I feel about my son, he is my shooting star. The image of dolphins and wolves crying (which I speak of in the song) is how I've felt as a new mother. 
"Song for the Mommas" is a song about motherhood and identity. In the world of your career, there is not much room for motherhood and children. You can be either a professional or a mother but it's tricky to be both. I wanted to write an album that celebrates motherhood and doesn't hide this experience. Rock on Mommas of the world!"