Journées de la harpe à Aire-la-Ville: Spotlight on the Electric Harp with Elise Estavoyer and Tristan Le Govic
Latest
February 24, 2019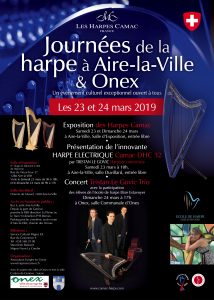 The Camac blog has already sung the praises of associations in the harp world. They create extensive, valuable artistic and networking opportunities, always thanks to a high proportion of voluntary work on the part of their tireless organisers. On March 23rd – 24th, we'll be returning to Switzerland, for another great project with Elise Estavoyer and her association Harpes en Coeur.
The origins of Harpes en Coeur go back to 2008. Elise Estavoyer already had a thriving harp school, and she began to invite guest artists to work with her students – Anne Postic, for example, and Cécile Corbel, both lever harp specialists.  "It has always just seemed obvious to me that my pupils should meet other artists", says Elise, "as no one teacher can be all things to all men! And my colleagues and I draw a lot of inspiration from our guest stars.
Twenty people immediately signed up for the events with Anne and Cécile. My pupils' parents told me that we should form an association, to take care of a regular events programme to complement the teaching work in my school. They offered to help with the organisation, and Harpes en Coeur became a registered association in 2009. 
Because my pupils and their families are all active in Harpes en Coeur's projects, our work is by definition collective. Students can suggest ideas, and we are defined by a joyful and open spirit. We are very lucky to have an entire house lent to us for our courses, without worries about juggling room bookings, or disturbing the neighbours.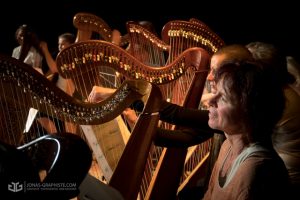 I have always found it self-evident that we should promote the lever harp in our programme of events. This is the instrument so many children begin with; I did so myself. I'm not a traditional music specialist; I pursued classical studies. But when I started the pedal harp, I was lucky that there was no question for my parents that we should sell my lever harp. The lever harp is a proper instrument: in traditional music, but also in many other types of music. I never wanted my pupils to see it only as an instrument for beginners. There is also, in the lever harp world, a greater sense of community than in the pedal harp one. You can put your harp under your arm, and take it easily to go and play with others. This is something that is also very nice in its own right, and particularly helpful when working with children."
2019's edition of the harp days follows our collaboration in 2015, which saw Elise's pupils give the world premiere of "Stabat Mater" by François Pernel. This ambitious work for countertenor, solo harp, flute ensemble and lever harp ensemble was featured on Swiss radio – curious francophones can still listen to this, below. 
I want to enable video content and agree that data will be loaded from (see
Privacy Policy
).
"The work with François Pernel was more ambitious than anything we had tried before", Elise goes on to recall. "Harpes en Coeur has come particularly to focus on the newly creative, and we are looking forward to plenty of new impulses from Tristan Le Govic in March. He and his trio are going to be accompanied on-stage by twenty-five of my young students, in a new arrangement he has done with four harp parts. It's very satisfying to think of a new work for four harps now out there in the world.
I think this is going to be a fantastic moment for performers and audience alike. The harp is such a creative, dynamic instrument, but it's still not always perceived as such from outside. Yet my school now has over fifty students, and we receive new enquiries every week. People are drawn to the harp without always knowing why – if we can show off what the instrument can do, the sky's the limit. This is what, for example, Alan Stivell has done; he has brought the lever harp to people who do not necessarily think they're going to like traditional music."
The Harp Days will consist of various elements, all creative and thought-provoking. On Saturday, March 23rd at 10AM in Aire-la-Ville, Tristan Le Govic will present the Camac DHC electric harp. Find out just how much you can do with this instrument, and have a go with it yourself – everybody is welcome, in an open and relaxed session with plenty of opportunity to ask questions. Our international sales manager Thomas Pontoizeau will also be in Aire-la-Ville throughout the weekend with an exhibition, so you can go and talk to him too. 
Prior to this, it should be noted that Tristan – who will have been in Switzerland all week, working on the new arrangement with Elise's students – will hold two sessions one dedicated to Swiss harp teachers and another one to students. The sessions will occur on the 18th of march in Yverdon. Please contact Julie Sallaberry to register. 
On Sunday, March 24th, the Tristan Le Govic Trio, and members of Harpes en Coeur, will perform at the Salle communale d'Onex, with the concert starting at 5PM. Tristan and his colleagues Tangi le Henanff (bass) and Alan Quéré-Moysan (drums) have recently been awarded the Trophée Fest-Noz « Nevez Flamm » 2018. This will come as no surprise to anyone already familiar with their groovy, dancing take on Breton music – and if you haven't already experienced it, here's a perfect chance to do so! 
I want to enable video content and agree that data will be loaded from Google (see
Privacy Policy
).
You'll find ticket information for Sunday's concert here; Saturday's events are free to attend. For commercial enquiries, you can contact Thomas Pontoizeau directly @ Camac; all artistic questions directly to Harpes en Coeur. Both the website of the association, and of Elise's harp school directly, are well worth a detailed read. Their dedicated and dynamic work has created a new harp hotspot in Geneva.