Musical Postcards from Nabila Chajai
News
October 23, 2018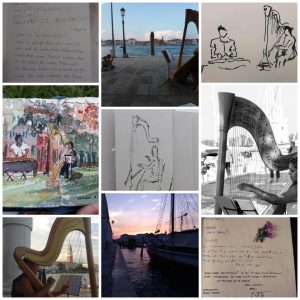 Nabila Chajai, Principal Harp at the Gran Teatro La Fenice in Venice, has been creating a wonderful series of "musical postcards" on the streets of Venice. Throughout the summer, she has taken her harp all over the city, performing solo and with colleagues, and accompanied by a journal in which passers-by can record their thoughts. 
Nabila's idea was to make harp music accessible, amongst the magic of Venice. "I wanted to play fine classical repertoire, in a democratic way", she explains simply. "I didn't add any animation or other performance aspects. I just wanted the music to speak for itself. I got a street music permit, took the harp, and set out."
"It was really a great experience. During the summer, a lot of children were out and about, during their school holidays. Many had never seen a harp before, and I was very happy to be able to show it to them. Of course, there are always a lot of tourists in Venice too, especially in the summer. When you live in a tourist spot, creating a beautiful moment is even more important because it takes you away from the relentless consummation that is mass tourism. Many visitors thanked me for this, took time to listen and to reconnect to other things in life. Cities become tourist centres because they are beautiful, after all."
You can follow Nabila's postcards on her Facebook page – and keep an eye out for the next edition!