Portrait of Veronika Lemishenko
News
September 1, 2015
Ekaterinburg is Russia's fourth biggest city, and home to one of Russia's leading orchestras, the Ural Philharmonic. Camac senior technician Enric De Anciola remembers Ekaterinburg chiefly as the place where all his tuners broke down in front of the orchestral harps, but that is another story.
Founded in 1936 by Mark Paverman, the orchestra is one of Russia's oldest orchestras. For the last seventeen years, the orchestra's chief conductor has been the charismatic Dmitry Liss, who has greatly raised the international profile of the orchestra with his dynamic and creative programming. As well as touring around the world, he has also set his orchestra in the heart of his community, with outreach work comprising everything from concerts in schools and hospitals, to a composition competition – 'Peter and the Wolf' for symphonic music aimed at children. 2006 saw the birth of the Ural Youth Symphonic Orchestra, a high-level youth ensemble whose musicians frequently work alongside their professional colleagues in the Ural Phil.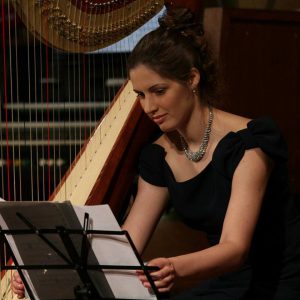 The Ural Philharmonic is particularly fortunate in its Principal Harpist, Veronika Lemishenko. Born in Kharkov, Ukraine, she began her harp studies with Larisa Klevtsova, before continuing with Milda Agazarian at the Gnessin Russian Music Acadmey in Moscow. Prizes at the Arpista Ludovico, Cité des Arts, Ksenia Erdeli and Wales International harp competitions are among her international awards. She was a "HarpMasters Young Celebrity Master" in 2009; performed the opening recital at the first international harp competition in Kiev; has collaborated with Mara Galassi and the Musica d'Arpa foundation in Milan, and will give a solo recital for the Folle Journée à l'étranger festival on September 12th. 2015 also sees the Philharmonic host the third Eurasia Festival, where Veronika will give a masterclass for the visiting Hong Kong Youth Orchestra.
Since arriving in Ekaterinburg in 2012, Veronika is the first harpist to have performed as a soloist with the orchestra, including the Boildieu concerto with Liss; 3 Mozart concertos (twice with Alexey Dorkin, once with Enkhe); the Malecki double harp concerto with colleague Maria Pozdnyakova; and chamber music such as Conte Fantastique, again with Liss.
Veronika also gives numerous chamber concerts with other colleagues from the orchestra, particularly with organist Taras Baginets, as a guest soloist in the first Boris Berezovsky Festival, and in 'Sticks and Strings', Veronika's duo with Ural Philharmonic Principal Percussionist Anton Magrychev. The unusual harp/percussion combination is also a good catalyst for new music – works that the duo have commissioned thus far include "Make it so that I could talk to you" by Olga Victorova, and "Inside the Emptiness" by Anna Stoyanova.
Alongside her work in the orchestra and as a concert harp recitalist, Veronika has also created a fascinating body of work for the Bardic harp. This began partly for practical reasons, because it is much easier to travel with a Bardic, and Veronika was using the instrument for a lot of her outreach work in Ekaterinburg.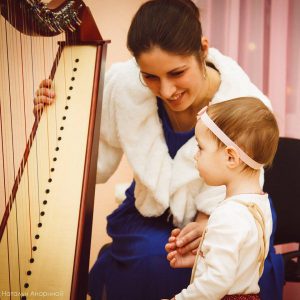 "I use it a lot for our parent-and-baby concerts, where parents come and sit on cushions on the floor with their children", she says, "but I don't think it's only a baby instrument. I like to use it very much for teaching students who will go on to play the concert harp, because of its firm tension. And a lot of substantial music can sound really good on it.  I began by arranging the Handel concerto, because this concerto was written for a non-pedal harp in the first place, and indeed even that isn't fixed – the concerto was also played on the organ, on the cembalo…so I didn't think Handel would turn in his grave if I played it on a Bardic. I had a "Handel-Bardic" cadenza written for it, and I am happy with the overall result, I find it serious.
Apart from Handel, I play a lot of Bernard Andrès's music on the Bardic. I've arranged harp duos by Dussek and Krumpholz, because I quite often do a recital with another harpist, but we can only transport one pedal harp…and I work with three composers – Eugene Andreev,  Anna Stoyanova and Anton Eldarov in creating original repertoire for the instrument."
For the rest of 2015, Veronika is busier than ever. In additional to her orchestral schedule, she will give a "Three harpists – three harps" concert with Maria Pozdnyakova and Yugenia Marchenko, on an Atlantide, an Isolde and a Bardic at the Museum of Ekaterinburg History.  The end of October also sees a solo recital with Vyacheslav Redya in Zapirizgzhya, Ukraine; another at the "Glowing Harp" Festival; and more harp and organ, also with Stanislav Kalinin. In December,  Veronika will perform the Ginastera concerto with the Kharkov Philharmonic.
"First of all, I feel incredibly lucky to do what I love, rather than just have to go to work every day", says Veronika. "Nothing is better for you, than when your life's work is where your soul is. That's why I'm always full of ideas and inspired by what I do. Of course, sometimes it's hard and nerve-racking, but the work and the results keep me on track. All this makes me happy, and I want to share it as much as I can and communicate my feelings to other people."