Ranagri: Playing for Luck
Latest
March 25, 2019
Ranagri – Dónal Rogers, Eliza Marshall, Eleanor Turner (replacing Jean Kelly), and Joe Danks – are a contemporary folk band. They play flutes, Irish whistles, the DHC electric harp, bodhran, guitar, bouzouki, and they sing. Their sound is punchily lyrical, and their music (much of it original) sends their folk stories travelling across the landscapes of today.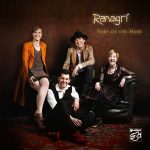 Their name stems from Dónal's home of Rathnagrew (pronounced Ran-ag-rye) in Ireland, an idyllic village between the Wicklow Mountains and Co. Carlow. 'Fort of the Hare', their other album on Stockfisch in this lineup (2014), is full of the scent of adventure, and also the beauty of home. The wanderers in this album are nothing if not open, telling stories on their travels, from village to city, country to country, across continents and cultures. Bogeymen exist, but mermaids too; gray dawns can be cold, but people greet it together. Behind it all throbs the colour and pulse of Irish music:  "just close your eyes, let your imagination run wild…/ And let the rhythm take you back, again."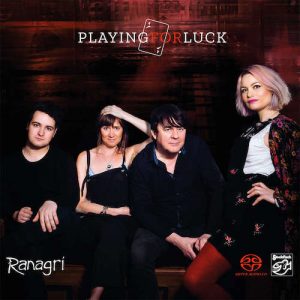 Fast-forward five years, and Ranagri have released a new album: Playing for Luck. We are still travelling, but this music gazes on "the edge of the world", a place of roaring lions, cold rain, and loved ones left behind at home, impotent and jealous. Home itself seems barely important, not even constant; the colourful tales and sunlight fields have been replaced by endless oceans, wild forests, and the sad narratives in "under milk wood dreams". Angriest and most explicit of all is a "Medication Show", based on empires past and gone – glittering in appearance, but in fact a deceptive "carnival", propagated by anachronistic fantasists in "a parliament of sin."
Bleak as these horizons are, the albums hasn't lost sight of elsewhere: 'The Thief' (track 5) envisages a place of love and light, stolen and gone, but somewhere still out there: a "city in the sky…and we're gonna make the world all right." At the end of the album, 'Liberty' feels like an elegy: for what came before, as all elegies are, and also maybe for what is yet to come.