Recital by Isabelle Moretti in Seoul, November 5th 2018
News
October 27, 2018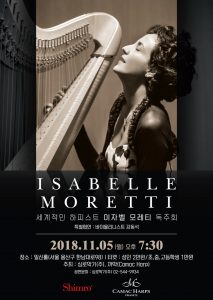 To celebrate our new partnership with Shimro in South Korea, we are looking forward to a concert with Isabelle Moretti, at the Ilshin Hall in Seoul on November 5th, 7:30PM. Her programme includes works by Tournier, Debussy, Grandjany, Quintanilla, Albéniz, Ginastera, De Falla, and Pierné. She will also perform chamber music by Saint-Saëns, with special guest Dong-Suk Kang. 
For ticket information, please contact Shimro. 
This is also the first presentation of the Camac Canopée in South Korea.