Stronger, together! Collectif Arp
News
December 10, 2015
Last October, we were happy to be part of the official launch of the Antologiezh Telenn Breizh – the Breton Harp Anthology, three volumes edited by Tristan Le Govic.
This launch was organised by Collectif Arp. This ensemble was born in 2014, when Alice Soria-Cadoret, Nikolaz Cadoret, Cristine Mérienne and Clotilde Trouillaud realised that they were often engaging with similar issues.
"Alice and Nikolaz already worked together, then Alice and Christine went on tour together, and Christine and I were always discussing our work – as players, producers, managers and also looking after all our PR…given that we were all doing similar things, and had a shared vision for the development of our instrument and its repertoire, the four of us decided to found Collectif Arp", Clotilde Trouillaud explains.
It was also during the summer of 2014 that Tristan Le Govic returned from living in Scotland to Brittany, and moved in not far from Clotilde. "So we had a fifth person with whom we were also having the same conversations, and it was clear to everyone that Tristan should also join the Collectif. Since then, we have three harpists in the Finistère region of Brittany, and two in Morbihan."
It is not so easy for artists to get to know each other, and to become well-connected in their scene. It takes a lot of time and energy. The Collectif Arp's fundamental principle, therefore, is that you are stronger, together! They help promote each other's concerts, and can also show more, differing facets of their instrument. The latter also fundamentally underpins the group. "We were motivated to work together by the sheer diversity of performances that we were offering with one thing in common – the harp!", Clotilde explains. "We have different musical backgrounds: traditional music, composed music, music for young people, French chanson…and we play different harps: lever, pedal, acoustic, electric. So this is about expressing our instrument's rich identity, and to combine forces to spread the word about our projects."
Tristan also stresses this important aspect of collaboration in an article about Collectif Arp on his excellent blog. "Though the harp is a common denominator; the love of music lies at the heart of their art, before the instrument, and is skillfully expressed in many forms: acoustic, electric, contemporary, classical, traditional, improvised… a little something for everyone.
The Five aim to promote the multi-faceted nature of their music by sharing their experience, enthusiasm and time. Their watchword: to give more visibility to an instrument that is still quiet on today's music scene by opening up new horizons and other artistic and musical networks. These harpists are artists first and foremost, whose music breaks preconceptions and reasserts the versatile qualities of the harp."
On their flyer, you can see just how diverse Collectif Arp's offerings are. To name but a few, there is Duo Descofar's electric Celtic music; traditional music by Tristan Le Govic; original compositions by Clotilde Trouillaud; Cristine Mérienne's songs; and the free improvisation of Fack Ze Dirty Cut (Nikolaz Cadoret and Hélène Breschand). You can explore this wealth of music through the clips on the Collectif's SoundCloud page.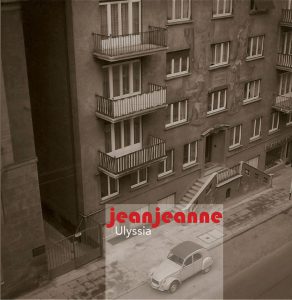 In 2016, Collectif Arp will create two new things. The Lune Bleue (Blue Moon) Trio sees Clotilde join forces with e-guitarist Erwan Bérenguer, and drummer Jean-Marie Stéphant. Currently in rehearsals, the world premiere will be on January 15th 2016, at the Centre Culturel Amzer Nevez à Ploemeur (9PM). The second premiere is Ulyssia, conceived by JeanJeanne (Cristine Merienne, Nikolaz Cadoret, Alice Soria-Cadoret and Yvon Molard), and successfully crowdfunded recently. To discover the show, go to Chartres de Bretagne on January 29th, also at 9PM!
One of Collectif Arp's great trump cards is that all its members are very good teachers, as well as very good musicians. Student harpists have the chance to benefit from various courses organised by the collective. One of these took place during the Anthology's launch in Carhaix (led by Alice Soria-Cadoret and Quentin Vestur), following a three-day course in Douarnenez last August. These were the first in a long series of courses, for the collective has decided to organise one a month either in Finistère, or in Morbihan. The next will be on December 13th in Relecq-Kerhuon, taught by Nikolaz and Clotilde. If you are interested, a couple of places are left, but – book fast!
After this, there will be courses in Bubry (January 10th with Alice and Cristine), in Quimper (February 7th with Tristan and Clotilde), Bubry again on March 6th (Clotilde and Quentin Vestur), in Douarnenez on April 3rd with Cristine and Alice, back in Bubry on May 1st with Nikolaz and Tristan, and in Brest on June 5th, with Alice and Nikolaz.
Whether you live around Brest, or you're coming specially for the course on December 13th, you can take advantage of your location to hear Alice and Clotilde in concert. They will be playing a pre-dinner concert on Saturday, December 12th, at the Coin de la Rue in Brest – on respectively a classical harp and a Celtic harp.
Keep up-to-date with all of Collectif Arp's events, concerts and courses by following their website or Facebook page! To contact them, email [email protected].