The story of the DHC Blue Light
News
January 27, 2016
The DHC Blue Light is our collaboration with strap-on-harp-legend Deborah Henson-Conant. Made of super-light, mega-strong carbon fibre, it weighs just 5.5kg, and comes in 32- or 36-string models. Even Deborah herself couldn't get a back-up model immediately because of the length of the waiting list.
Ingeniously, Camac collaborated with bicycle manufacturers to make it happen. Deborah began working with Joël Garnier in the early 1990s, while she was on the hunt for a lever harp she could harness to her body and move about on stage with.
"I had wanted a harness harp for years", Deborah explains. "Some harp makers built quick prototypes (such as John Hoare of Pilgrim), but finally I got a small Rubarth lap harp, covered it with red-and-silver contact paper, put a pickup in it, made a rudimentary harness for it, took it on tour and played it for Joël.  He said, "Ah, Deborah, now I see what you mean," and the next time I saw him (it seemed like 4-6 months later, but was maybe more), he handed me the prototype of the Baby Blue. I still have that very first prototype!
I built a new harness (the prototype for what we're all using now), and a friend modified the harp (which was wood, so fairly easy to modify) so it could attach to a Bogen camera tripod as a stand. I started touring with it, wrote orchestral pieces for it, and learned about amplification. For a while I always shipped the harp in a bicycle box, as it fit perfectly and I could often get it on a plane free that way.
The culmination of the Baby Blue was "Invention & Alchemy," when I got to really show what the instrument could do both as a solo instrument, and as a feature with orchestra.  The end of the era came soon after at the Arles harp festival, when I came without my Baby Blue and played a modern model.
Technical improvements had made the model so heavy that it was too much to wear, even for me, someone pretty big and used to it. It was painfully (literally) clear that that model had no future commercially as a harness harp. This animated Jakez and me to sit down and talk about the future of the instrument. It seemed like the idea was either going to die and I'd be one of a few people left in the world playing the original model, or the next model needed to be revolutionarily different.
Jakez decided to go ahead with the expense and time investment of a completely new model, and asked me for input on what changes we needed.  That investment was huge on many levels. There was no way to know that this investment would pay off financially; I don't think there was a huge interest in harnessable harps at that point, although there is now! In retrospect, I'm awed at the leap he took, both financially and creatively.
Jakez tells me that I had been going on at him for so long to work with bicycle manufacturers (to develop a harp with a truly light, carbon fibre frame), that finally he did. It wasn't as simple as copying their manufacturing processes, however. The main problem in designing a lighter harness harp was the cost of producing a mould for the body of the harp. This cost was prohibitive, because mould-making is designed either for companies who don't care about costs (competition bicycles), or those who count on big quantities (mass production). As a harp maker, Camac was neither of these. Another technical problem we faced was that the harp needed wooden parts (for the tuning pins and levers, for example) inserted inside the carbon fibre skin of the body, which does not happen with bicycles because they only have foam.
In the end, the idea of a mould was dropped entirely, and Camac chose to produce the harps the same way cycle manufacturers produce their prototypes: by hand, one by one. The inside parts are produced in the Camac workshops, the foam parts and wooden inserts are cut out, the bodies are assembled and then the harps are covered with a special carbon fibre skin, using a vacuum system.
The new carbon fibre harp was a huge success for me from the moment I put it on. I remember that moment! Jakez and I noticed that it was as if my body and my hands had just been waiting for this instrument.  The low C string (just 2 more strings than I'd had before) was revolutionary in terms of my playing – it suddenly gave me a range and heft I hadn't realized was missing – and suddenly this was a hugely viable solo instrument.
That was a magical moment. Not because something "unusual" happened, but because, after years of working with Joel and Jakez on the harp, suddenly everything clicked into place.  We'd reached the true beginning of this instrument.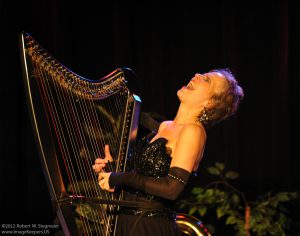 The DHC Blue Light trumps the Baby Blue in pretty much every way. The sound is more even, it's nearly half the weight, with more strings, and visually it seems to really capture the imagination of the harp-playing audience.  Everything just seems to have 'clicked' with this model, from what I can tell.  It is the instrument I dreamed of, what I see as THE crossover instrument of the 21st century."
Jakez adds: "I think there is an additional reason why more people want a DHC Blue Light. For more than a decade now, harpists have been watching what Deborah does with this harp. Most of the younger generation don't even know that there was a time when portable harps did not exist, and for them, it's a normal facet of the contemporary instrument. Step by step, the harp made a big step."