"Works of art make rules"…
Latest
June 10, 2018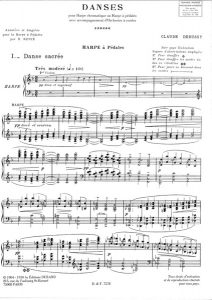 …said Claude Debussy. "Rules do not make works of art." That would certainly be true of his Danse sacrée et danse profane for harp and string orchestra. Isabelle Moretti will be performing it twice next week with the Orchestre de Chambre de Lausanne – and also, the Swiss premier of Danse libre. This is Bruno Mantovani's new concerto for her, inspired by Debussy's masterpiece. 
Danse libre is conceived as a third dance, after Debussy's famous two – and maybe, even a first, anticipating the modal and almost archaic quality of Debussy's Danse sacrée. It is also a "Danse libre" for the harp in the way it celebrates the instrument as a soloistic, rhythmic, powerful and savage presence – all sides to the harp's character that are not commonly brought out. Mantovani composed it directly after the attack on Paris's Bataclan concert hall, his city wracked with tension and despair. "I  am interested in religion as a cultural – and therefore also as a musical – phenomenon", he notes in an interview before the world premier on December 7th, 2017. "As for the rest…when I thought about Danse sacrée et danse profane, I decided to write entirely freely, with a purely musical work. In the far-off past, composers wrote religious music, and bawdy songs, at the same time. The sacred and the secular coexisted, in the Middle Ages."
If you can't make it to Lausanne on June 11th or 12th, the performance will be broadcast on Arte, June 12th at 8PM. 
Also to note: another harp concerto after Debussy's Dances is Kalevi Aho's Mearra. This was commissioned in 2017 by the Ghent Festival of Flanders for Anneleen Lenaerts. On September 16th, Anneleen will perform it again with the Mikkelin Kaupunginorkesteri in Finland, conducted by Erkki Lasonpalo.
Image: Camac.