An invitation to a journey: our new Ulysse
News
April 7, 2015
We are very proud to announce the latest development in our range: the Ulysse. An ultra-light, highest-quality concert lever harp created together with Elisa Vellia, the Ulysse is a 34-string harp that weighs just over 8 kg. Elisa dreamed of a robust, light and reliable harp, with a deep and rich sound, for traveling to audiences throughout the world. After months of work, Jakez François, our master craftsmen and our in-house engineers have turned this vision into reality.
The Ulysse combines centuries-old traditions of luthiery, in particular through a magnificent spruce soundboard, with innovative modern materials such as carbon fiber and titanium. It is the quintessence of a savoir-faire acquired through years of experience with fine instruments, such as those that are the pride of our company: for example our Concert Mélusine, Aziliz, Janet and Telenn Kadiou. This expertise is combined with our state-of-the-art developments from the DHC ultra-light ElectroHarp.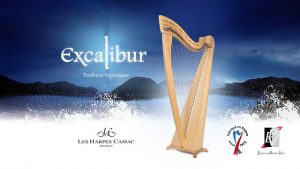 The Ulysse is strung with Alliance™ fluorocarbon strings, for a supple yet strong touch ideal for traditional music.
Happy are they, like Ulysses
Who have journeyed well
Joachim du Bellay