News
July 14, 2015
Our MIDI concert harp, launched in 2009, is not available to buy but is instead reserved for special projects.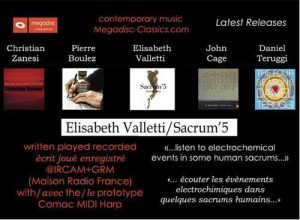 Elisabeth Valletti is an instrumental figure in this harp's development. She, and her work, notably her "Harp Haikus", are largely behind the MIDI harp being awarded the QWARTZ / Max Matthews prize for technological innovation in 2011. A subsequent residency with the MIDI harp at the IRCAM and at the GRM de Radio France saw the creation of her latest album: "Sacrum 5", now out on Megadisc Classics.
"Sacrum'5" is a development of Elisabeth Valletti's interest in microcosmic sound. "Fascinated by science and its wonders", she writes, "I've always imagined what the quantum world as well as that of the microcosm inside the human body would sound like." Her first project on this theme was String Theory, part of her Orfeo Project; this was followed by 'Harp Haikus' for MIDI harp – an "imaginary recording of the multitude of sounds that fill the brain at particularly intense moments in human life".
The sacrum, the bone that supports the spine, houses an enormous network of nerves and nervous activity in the human body. This captured Valletti's imagination: "Sacrum'5" is an attempt to recreate the waves, breathings, splatters and explosions that intertwine in the intangible matter made of sound.'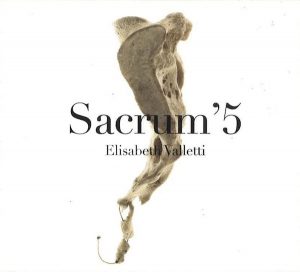 You can browse the fascinating and extensive CD booklet online here. 5 tracks, all focused on moments of different and intense emotion. The disc begins with terror, moves on to temptation, then jealousy, followed by the scientist and philosopher Blaise Pascal's 'night of fire' mystical encounter with God. Last is passion, linked to Boieldieu, in love with a harpist and writing a concerto for her.
All tracks are scored differently, and all are created entirely by Valletti alone with the MIDI harp. Sacrum 1 (Dante / Terror) is for two harps, harpsichord and laptop; Sacrum 2 (Orpheus / Temptation) for harp, percussion and laptop. Sacrum 3 does not sound like a harp at all, but rather is programmed as harpsichord and cello. All are subject to real-time audio processing. Sound processing is triggered by a pedal-board and by some low and high strings. "As I did not have any assistant to help the real-time audio processing", explains Valletti, "I dedicated a few strings in the very low and the highest range to trigger sound processing. The main part of the processing was done with a type of pedal board which allowed me to unfold the sound process in real time."
One of the reasons why we have withheld the MIDI harp from production is that while its construction fulfilled a company dream, MIDI technology in itself is nothing new. You can go down to your local music store, buy a keyboard for fifty euros and make it sound like a trumpet or a drum. Massively expensive and complex by comparison, a MIDI harp is best justifiable if it creates music that could not have been created in any other way. "The way of playing the MIDI harp creates a specific way of writing for it", Valletti concurs. Indeed, this argument can be applied to all sorts of electronic music. If you use an instrument to create music that could in fact be done by the guy at the back of the stage on his laptop alone, what is the point of the instrument? The excitement lies in the relationship between the performer and the technology, the pre-programmed and the live event.
Valletti's music is full of surprises. There are passages of controlled improvisation – "playing solo allowed me to go off on a tangent, then return to my structure, without any colleagues needing to be mind-readers", remarks Valletti. Much of her emotional exploration, too, is oscillating and unexpected – as the experience of these emotions really is. Dante, terrified at the gates of Hell in Sacrum 1, is occasionally comforted by thoughts of Beatrice, before fear takes over again. In Sacrum 2, Orfeo struggles, ultimately failing, to resist the desire to look back on Eurydice. Sacrum 3 – the Hermit – is not only about effort, success and/or failure, but about the belief you have succeeded and then realising that you haven't. Simeon the hermit, already in the desert for years, believes he has found spiritual peace, until he hears that his friend Gregory has become the Pope. Knocked back by a rush of jealousy, Simeon is forced to confront "the desires that were mastered but never properly swallowed…he thought he had dissolved everything."
At night in the vast studio 116 of Radio France, alone with the harp, Valletti hears the nervous activity  – that is scientifically proved to be intense –  of the sacrums she has choosen to listen to, and she imagines the transcription of what she hears.
My ears are prickly
I am walking in an inviolate jungle of sounds
My tools are hardware software
Coloured strings pedals of steel and rubber pedal sets
The inspirations are experiences from human lives
I do not know what is being said
Words have no place here
Only deep meditative silence allows the capture of the world
of the nano-sounds
Bubbling dazzling striking deafening distressing
blazing world
Of the sacrums I chose to listen to
"Sacrum'5" was first named "5 Exercises for the MIDI Harp".
The CD booklet was written following a commissioned ballet.

Sacrum'5 available here from the Camac e-store.