First Ukrainian International Harp Conference, Kiev 2009
Uncategorized
December 15, 2015
Jakez and I have been to the Ukraine for the first time! And it was an inaugural day for the Ukrainian harp world, for we were attending the first International Ukrainian Conference, and the official founding of the Ukrainian Harp Society. The conference was the brainchild of Natalia Kmeth, professor at the Tchaikovsky National Academy of Music in Kiev, and Alexandra Gumen, professor at the Kiev Music School which hosted the conference. The first part of the day consisted of several fascinating lectures which, thanks to our excellent translators, we were also able to enjoy.
The conference was dedicated to the Ukraine's most famous harpist, Victoria Poltareva., who would have been ninety this year. Poltareva's son, Petr Poltarev, now Director of the Kiev Jazz Academy and President of the Artliga cultural association, led the moving tributes to Poltareva's tireless development of the harp throughout her native land.
Having survived the terrible Holodomor famine of the 1930s, Poltareva went to study in St Petersburg with Xenia Erdely (who also taught Vera Dulova). Poltareva played the piano and accordion as well as the harp, and even some jazz, for all jazz was not really allowed at the time. Her first teaching job was in Lviv in 1944, where, having no harp of her own, she had to run from her house to the music academy to practise, dodging wartime gunfire. As well as teaching classical harp, she joined the Lviv Academy professors' jazz band – and many other bands; she gave many public performances to supplement her income. Six months' worth of her teaching salary was only enough for about a kilo of butter.
Lviv was by this time a big cultural centre in the Western Ukraine, with musicians like Renaissance men – broadly educated, with a wide range of artistic interests. It was a fertile environment for the harp, and Poltareva won much support and interest from her colleagues. She even hosted the Soviet Music Competition of 1978, where Dulova was President of the Jury. Throughout her career, Poltareva worked hard to educate composers about the harp, and the first Ukrainian harp concerto, by Kos-Anatolski, was written for her. Clearly she was not only an energetic harpist and pedagogue, but also a generous one, willing to send pupils on to St Petersburg or Moscow to develop their potential, and always available to hear, advise and encourage young harpists.
It was the current professor at the Lviv Academy, Olga Olejnik, who then gave the conference's second lecture, about early Ukrainian harps. The first harp to be unearthed from Ukrainian soil dates from 700 BC. Now on show in the Hermitage in St Petersburg). This harp was a type of frame harp, made like a bow, that could hold about five strings (or 20 kilos' tension – modern harps hold about 1500). Flat soundboard harps also existed, forefathers of the bandura, the Ukrainian national instrument. These still exist in Asian countries, parts of Russia and Siberia.
The emphasis on the Ukrainian harp world's history and broader culture was continued with lectures about Russian artistic traditions in the Ukraine (by Katerina Muslienko), and modern Ukrainian composers (Valerie Otikhonova). The harp scene is and has been highly active for a long time: Kiev alone has a harp class in nine music schools, a total of almost eighty pupils. On the initiative of Alexandra Gumen, an Ukrainian Harp Society was voted in during Tuesday's conference – to continue popularising the harp in the Ukraine, and also better to promote and make more available the substantial, little-known body of Ukrainian harp compositions and recordings.
As we were to hear in the evening concert, the level among young harpists is impressively high – and it is not the first time that I have been struck by how many children play ten times better than what I sometimes hear in the West, on instruments that are ten times worse. Natalie Didkovska, Director of the Kiev Children's Music School (for orphans), spoke of her pride in organising school orchestras, despite the problems they have finding enough instruments – and indeed it was one of her pupils who gave a magnificent performance of Debussy's first Arabesque in the evening.
Obtaining instruments remains the biggest hurdle for Ukrainian harpists. In her own lecture about preparing students for professional life, Natalia Kmeth explained a price independence had to pay: no more government subsidies from the Soviet Institute of Culture. In the last ten years, no student has joined her class at the senior Music Academy in possession of their own harp. Despite teachers' hard work in the primary schools, sometimes children there have to share one harp per entire class. In the break between lectures, we were given a tour of the music school. This included a newly-refurbished keyboard laboratory, used for a special method of teaching solfege the school has developed itself. To fund these facilities, professors and parents had saved and collected together donations from their own pockets since the collapse of Communism, that is, for over fifteen years. It is humbling to witness the high artistic level that survives despite the financial climate.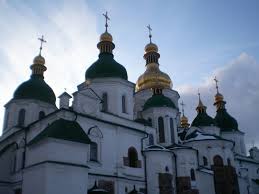 The evening concert in the Actors' House saw a packed hall, including several television crews and representatives from the Ukrainian Minstry of Culture. The first half comprised performances from the the Ukraine's best young harp talent, and after the interval we heard international artists with a connection to the Ukraine. Veronica Lemishenko (third prize winner in last summer's Arpista Ludovico competition in Madrid) gave an outstanding performance of Walter-Kühne's Eugene Onegin Fantasy; we also enjoyed Scottish flute and harp music from Alina Bzhezhinska and Margaret Preston, and Jakez took to the floor with some jazz to round off the evening. It was great to see a harp event attracting so much wider cultural interest, something we wish happened more often throughout the world.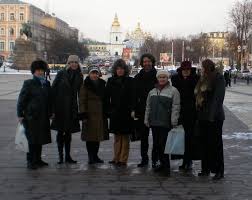 Many thanks to Alexandra and her team for welcoming us so warmly, and introducing us to this impassioned, lively musical world we hadn't known before. It was a great day which went on well into the next, fuelled by plates of delicious herring and Kiev's famous honey and chilli vodka. Good luck to the new Ukrainian Harp Society for all their future projects!