Gwenan Gibbard on tour in Hong Kong
Uncategorized
December 22, 2015
Gwenan Gibbered toured Hong Kong in January 2016.
Gwenan stands at the forefront of today's thriving Welsh traditional music scene with her unique, contemporary arrangements of Welsh traditional music and songs.  She also specialises in the unique art of 'Cerdd Dant', the ancient form of singing Welsh poetry to the accompaniment of the harp, and is one of the few people who performs this music self-accompanied on the harp.   Her performances have been far and wide, in numerous festivals and concerts in several countries, including Canada, North America and Europe, and her musical collaborations include recording projects and live performances with artists such as Cerys Matthews and Beth Nielsen Chapman.  She has released three solo albums on the Sain label, her most recent, 'Cerdd Dannau', being an unique and exciting album which explores a new perspective on the Cerdd Dant tradition.  Her newly released EP 'Y Gorwel Porffor' explores the cultural and musical connections between Wales and Patagonia, South America.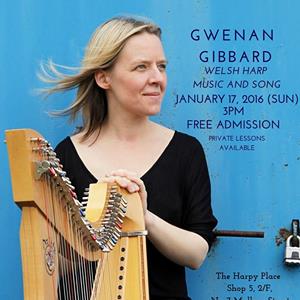 In Hong Kong, Gwenan performed at various music schools and university music departments in conjunction with Bangor University's exchange visit to the region. She appeared at Harp Chamber, one of our Hong Kong partners, and for the Welsh Society of Hong Kong with the Hong Kong Male Voice Choir. She also performed at the Eslite book and music stores in association with her HK record label Sunrise Music, and Grandview Culture.
For all who couldn't be in Hong Kong, Gwenan's CDs are available from the Camac online boutique, your one-stop-shop for recordings, films, books, sheet music, strings and harp accessories!