Rencontres Harpistiques, Lyon 2015
Uncategorized
October 23, 2015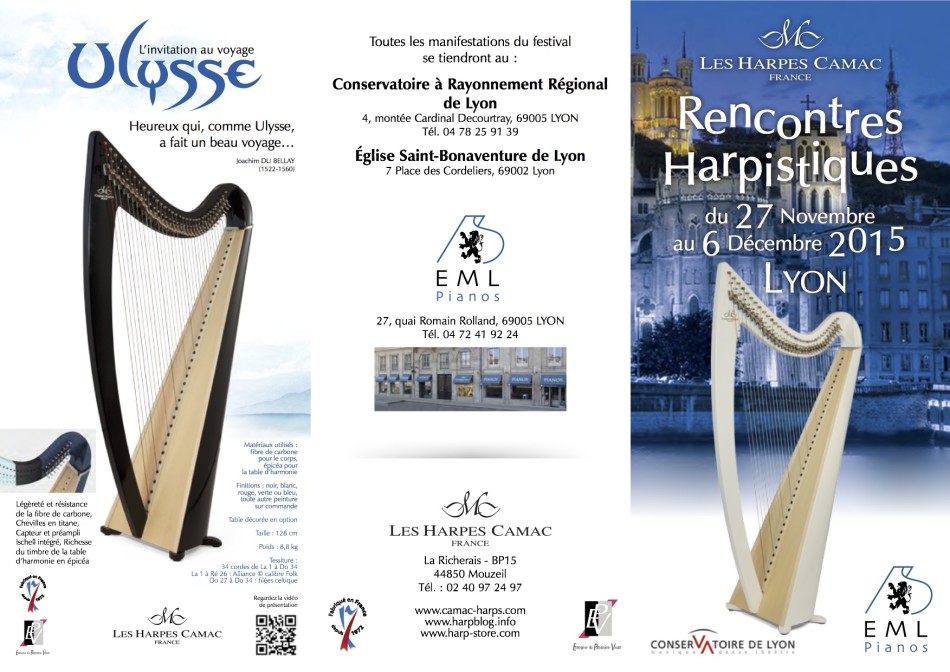 We are sponsoring the upcoming Rencontres Harpistiques, which will take place between November 27th – December 6th in Lyon, France. These are part of the Lyon CRR's third Cordes Sons d'Hiver festival ("string sounds of winter"!) – an annual event that focuses on a different instrument each time, and 2015 is the turn of plucked and hammered strings. "We, the professors, approached Camac this year, and we thank them warmly for their partnership", CRR harp professor Christophe Truant explains. We are happy to be able to support the Rencontres in association with EML Pianos, the best address in Lyon for Bechstein, Sauter, Förster, etc.
The Rencontres will feature Elisa Vellia, with whom we collaborated to create our top-of-the-range Ulysse concert harp; a carte blanche recital of music from the nineteenth and twentieth centuries by Aurélie Communal; and diverse performances (solo, chamber and harp ensemble) from the CRR harp class. The CRR students will conclude the festival with a Benjamin Britten programme: the Ceremony of Carols, and also Britten's Suite for Harp and some of his most beautiful songs for voice and harp.
"If there is a theme governing our programming, it's one of diversity!", says Christophe. "My colleague Caroline Anssoux and I co-run a large class of over fifty students, of all levels. It was very important to us to offer each student a chance to play, and to both extend and continue the work we have done with them all, all year. For example, Elisa Vellia will give a masterclass as well as a concert, with a special focus on learning Greek melodies and rhythms by ear. Greek music is going to be a new discovery for our students, but aural learning isn't. Throughout the year, Caroline and I run special classes where students put aside their scores, learn aurally and also explore improvisation. Classically-trained musicians can get very tied to reading, but obviously every musician needs developed aural skills. Even to memorise even a classical piece, you cannot rely on one type of memory, you need a combination of visual, aural and kinetic memory to be really secure. So this workshop is both an exciting new experience, and also a continuation of principles we are both emphasising in our teaching.
We're also looking forward to a broad range of musical styles, from Britten to contemporary and electroacoustic music. We're always seeking to develop our students' creativity, and the week promises to be a fine source of inspiration and motivation for us all!"
Camac will host a special exhibition in the showroom of EML Pianos, including a special presentation of the Ulysse. We will and also offer free regulations of your Camac harps for the duration of the days.
Entrance to all concerts and masterclasses is free as well, but please reserve places with the Lyon Conservatoire, from November 1st.