A South American Day at L'Espace Camac
Uncategorized
January 11, 2018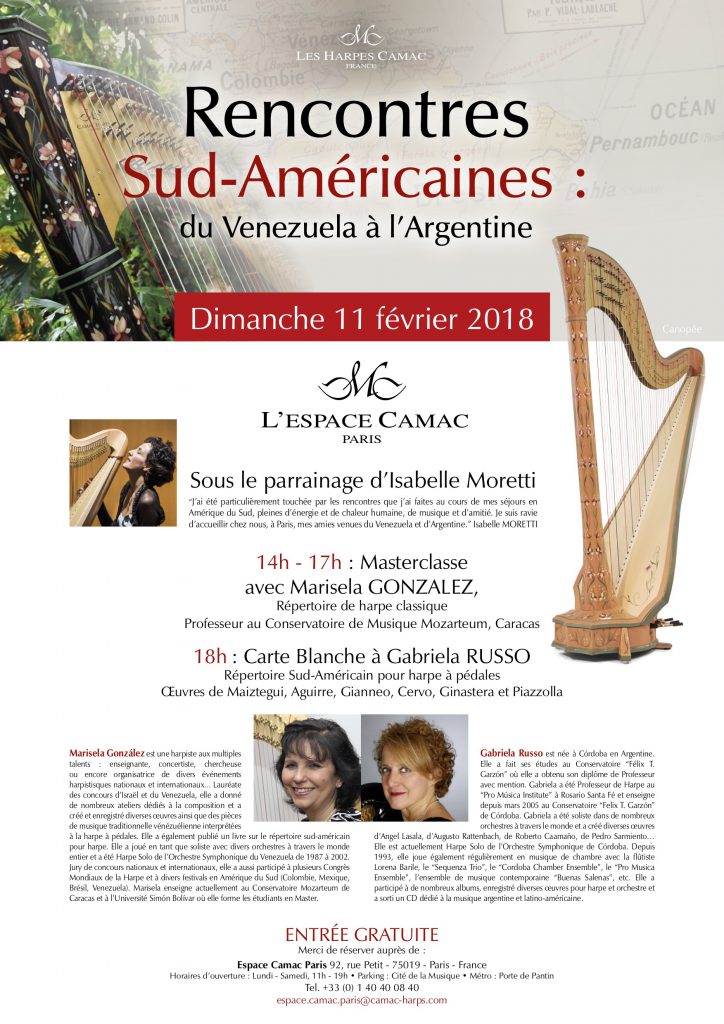 Under the patronage of Isabelle Moretti, we will be hosting a South American Day on February 11th at l'Espace Camac in Paris. From 2PM – 5PM, you will have a chance to work with Marisela Gonzales, Professor of Harp at the Mozarteum School of Music and the University Simón Bolívar, Caracas, Venezuela. 
In addition to her teaching position, Marisela was Principal Harpist with the Venezuela Symphony Orchestra between 1987-2002, has published a book on South American harp repertoire, and premiered and recorded many new works and traditional Venezuelan music for pedal harp. She is coming to France to work with the class of the Paris Conservatoire, and we have been able to use our showroom to extend the opportunity to other students. You do not have to present South American music in the masterclass, but if you are working on some, seize your chance! 
At 6PM, Gabriela Russo will take to the Espace Camac stage. Gabriela is Principal Harpist in the Orquesta de Córdoba, and professor at the Félix T. Garzón Conservatory, also in Córdoba, Argentina. Throughout her career, she has specialised in the work of Argentinian and contemporary composers. Her programme in Paris will include works by Maiztegui, Aguirre, Gianneo, Cervo, Ginastera and Piazzolla – some transcriptions, but chiefly original music for pedal harp.
The concert is centred around Ginastera's Sonatine for harp, a beautiful, but little-played work. This is because while Ginastera did not forbid performances of the Sonatine, he blocked all copying or publication of the score. Nobody is quite sure of his reason for this, but it is thought to be because he composed it before his harp concerto, and the spectacular success of the latter meant everybody forgot about the sonatine. "Nobody cared about it", Gabriela explains. "It's true that the third movement of the Sonatine evokes very similar tonal and rhythmic motifs to the concerto, but it's a pity not to see it as a work in its own right too."
In the rest of the programme, Gabriela's interest in Argentinian and contemporary music frequently find common ground. Three 'Triste' by Julián Aguirre combine folkloric rhythms with art music melodic and harmonic writing, for example. And Astor Piazzolla (we will hear 'Adios Nonino', not L'Histoire du tango), of course, brought Argentinian tango to classical art music. He studied with Ginastera, and also with Nadia Boulanger in Paris. The chromatic modernity of his tangos lead him to be criticised by some tango composers, but later on he was claimed by intellectuals and rock musicians.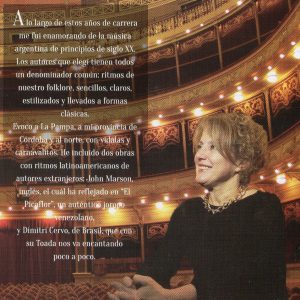 Gabriela has recorded the works she is going to play in Paris – and some additional original repertoire, for example Ángel Lasala's Suite Norteña. 
Entry is free, but as usual, please reserve your seats with Sébastien and Olivier at 
Espace Camac Paris
92, rue Petit – 75019 – Paris – France
+33 (0) 1 40 40 08 40