The Camac Festival will be in…
Coming Up
March 13, 2018
A hallmark of our season is the Camac Festival. This takes place every year in a French-speaking region (usually France, once Geneva), and including a big tenth anniversary in Nancy, 2015. We also took the concept to the West Coast of the USA, in Pasadena (2016), and to Washington, DC (2017).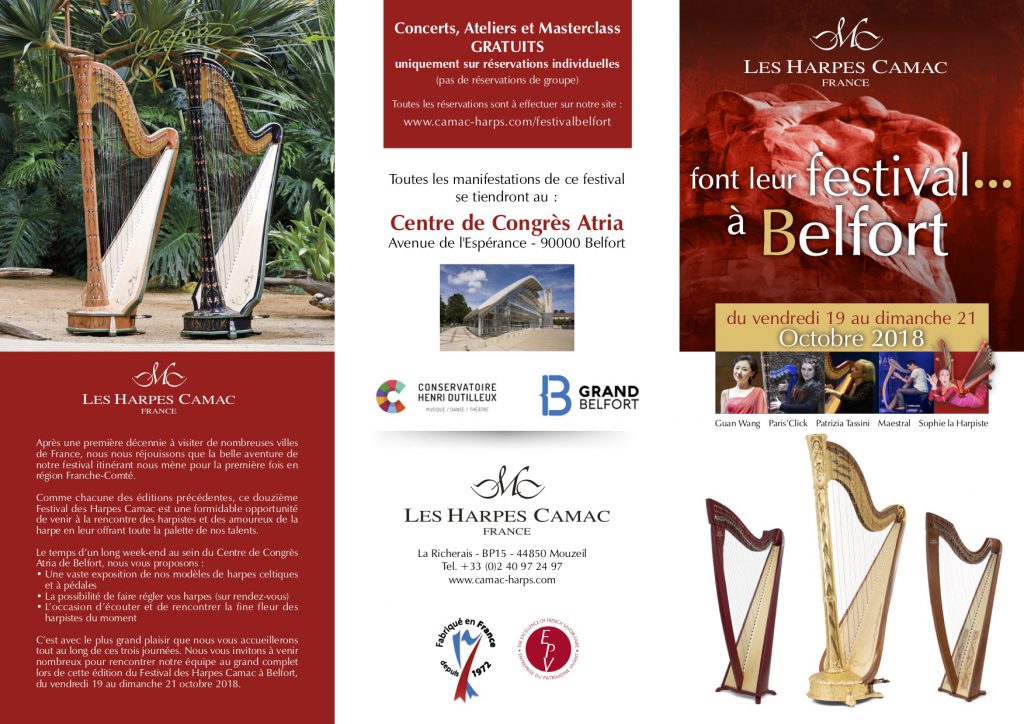 The Camac Festival was born through our wish to celebrate the harp throughout our francophone home territory – because it is emphatically not the case that wonderful harpists and busy harp communities are only found in Paris! Each Camac Festival brings a wide range of international artists, regional professionals, students and harp-lovers together, across every possible musical genre. Our commercial team also aim to provide an exceptional sales and service opportunity, close to home for our clients in the area. We bring the biggest exhibition of the year, and a full team of technicians to carry out complimentary regulations. 
In 2018, the Camac Festival will be in Belfort, close to the German and Swiss borders in NE France. From Friday 19th to Sunday the 21st of October, we will be based at the Centre de Congrès Atria, and looking forward as ever to a fantastic programme!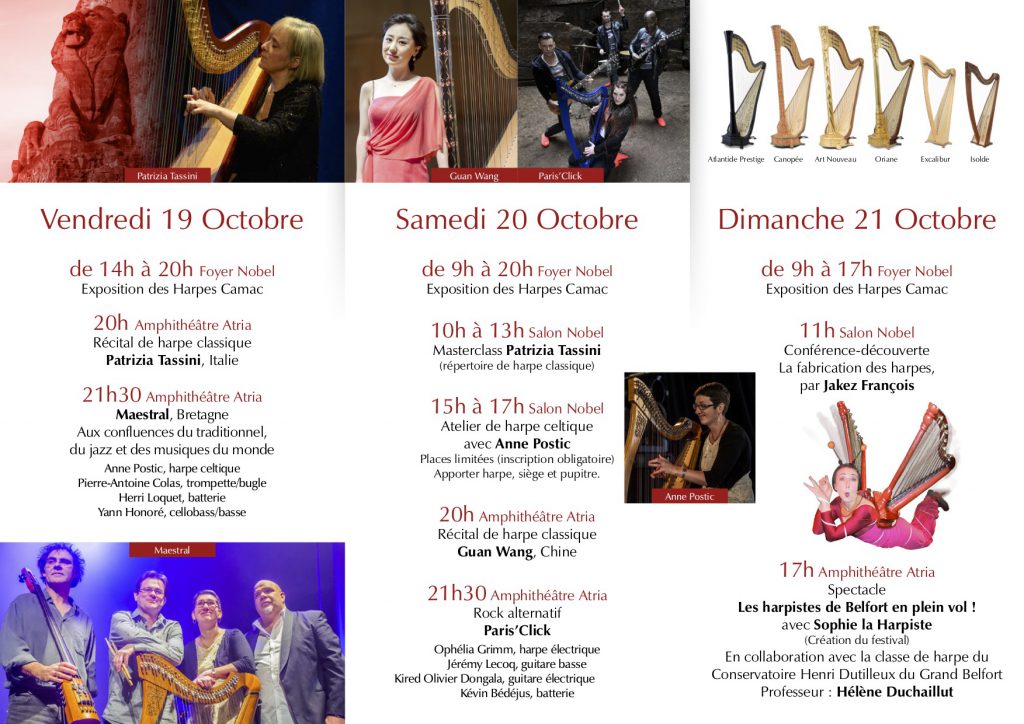 Patrizia Tassini, professor of harp at the Jacopo Tomadini Conservatoire in Udine, will begin with a classical recital on Friday, October 19th at 8PM. After a short break, Celto-world-jazz fusion group Maestral will take to the stage at 9:30PM. If you want to get a taste of their music in advance, check out their CD Confluences – available, like all great harp music, from the Camac online shop.
On Saturday, October 20th, our exhibition will continue, bright and early from 9AM. Patrizia Tassini will give a classical masterclass, followed by Maestral's Anne Postic with an afternoon, lever harp workshop. We will enjoy some more classical music from Guan Wang, of the China National Symphony Orchestra and professor of harp at the Central Conservatory of Music in Beijing…before, at 9:30PM, time for something completely different: alternative rock with Paris'Click!
We first heard Paris'Click at the World Harp Congress in Hong Kong, and they have subsequently released their second album, Assassine Logique. More rock and more symphonic than their first album Reset, 'Assassine Logique' also features no sound processing at all. "We wanted to keep the sounds of the instruments as they are", band harpist Ophélia Grimm explains. "We're using cello orchestras, a lot of bass, across a wide range of tracks which together form a real exploration of music and counter-culture."
On Sunday, October 21st, Camac President Jakez François will give a lecture about how our harps are made. Camac has always been driven by twin passions: for innovation on the one hand, and the great traditions of fine French harp making on the other. Find out more about our commitment to both, and experience the inner workings of our instruments close at hand. The final day of the Camac festival will conclude with a show specially put-together by harpist-comedienne Sophie La Harpiste, together with Hélène Duchaillut and her students at the Conservatoire Henri Dutilleux du Grand Belfort. 
Entrance to all events is free of charge, but registration is required. This will be open at the start of May under camac-harps.com/festivalbelfort. You can also download the full flyer here (PDF, 1MB).