News
March 16, 2018

Musikene, in San Sebastian in the Basque Country, is one of the most important conservatoires in Spain. It is housed in a splendid new building by architectural studio GAZ, with a dramatic, shiny black and gold exterior evoking the colours of the instruments inside it. Between March 3-4, we were lucky enough to be based in the auditorium at the heart of the structure, for a weekend of concerts and masterclasses in collaboration with Musikene professors Christine Icart and Julien Marcou, Erasmus, Musikene and Camac Ibérica. 
Isabelle Perrin, now professor at the Norwegian Academy of Music, worked intensively with the large class of the Musikene, and other students from the region, in three long masterclass sessions. Isabelle's fantastic teaching needs little introduction – if you're not working with her in Oslo, or at the Academie Camac in Dijon in May, then she is also teaching two summer courses: the Voksenåsen summer academy from August 5 – 10, 2018, and Arpa Horta from August 25 – September 2nd. 
We also enjoyed a lovely classical concert on the Saturday night, with Isabelle and two of her students from Oslo: Sara Esturillo and Claire Moncharmont. This was also the occasion of the formal presentation of our new concert grand models, the Canopée and the Art Nouveau, in Spain. 
Students also had a chance to explore new territory with Ben Creighton Griffiths. Harpists of a certain age may still think of Ben as a classical wunderkind, but he is also making an increasing name for himself in jazz. We are very happy to sponsor him often. He gives excellent improvisation workshops for all ages and stages, which we warmly recommend to anybody interested in getting to grips with jazz.  On-stage, Ben has been working a lot with his blue harp, synths and keys, creating a whole band while often remaining the only performer. His most recent album, 1 Man Band, was released a year ago – in San Sebastian, we saw him developing the concept still further, with the addition of drum pads and other intriguing kit. You can hear this to good effect below. 
I want to enable video content and agree that data will be loaded from Vimeo (see
Privacy Policy
).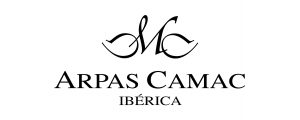 Harpists in Spain and Portugal can follow our activities with Camac Ibérica here. We frequently accompany our colleague Alexander Granados at events throughout the two countries, usually featuring regulation and exhibition opportunities as well as a top-quality artistic programme. Warmest thanks to Christine Icart and her colleagues at Musikene, for such a convivial and productive weekend!