Harpes au Max 2018
News
March 6, 2018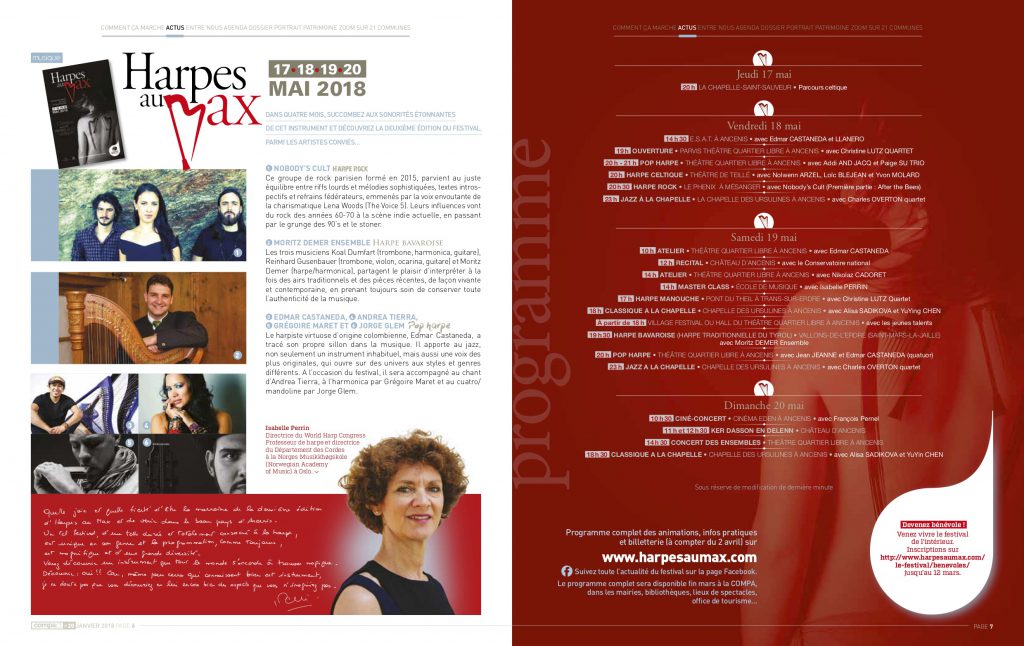 Harpes au Max is a special festival organised by the COMPA, the civic authorities of our home in Brittany, in partnership with us and the town of Ancenis. It began after we threw a big fortieth birthday celebration in the town – after which, the elected local councillors decided to do it again, in 2016 and now between May 17 – 20, 2018.  
Harpes au Max is a party for the harp in all its forms, and in all our instrument's twenty-first-century energy and diversity. For this weekend in May, the harp will be all over Ancenis and surrounding villages – in the town theatre, in the famous Chapelle des Ursulines, in the Château (where our historical harp collection is also currently on display), in front of the Château in the market square – and in the town library, the shopping centres, in hospitals and schools. We've invited artists and ensembles from all over the world – presided over by festival patron Isabelle Perrin – to enjoy the festival together with the artisans from our workshops, their families, friends and our local community. 
You can download the full programme on the festival site. Discover rock harp with Nobody's Cult, prize-winning singer songwriters After the Bees, pop harp with Addi & Jacq and the Page Su Trio, Celtic music with Nolwenn Arzel and her Celtique Trio, and jazz with the Christine Lutz and the Charles Overton Quartets. And that's all just on the first full day! 
On the Saturday, there'll be more jazz from Charles Overton, experimental pop with JeanJeanne, and some of the best Latin harp you'll ever hear with the Edmar Castaneda World Quartet. On the classical side, the virtuosi Alisa Sadikova and YuYing Chen will perform at the Chapelle des Ursulines. And – we're going to set up a Bavarian beer tent, with traditional Volksharfe from the Moritz Demer Ensemble, choucroute and locally-brewed beers. 
We are also delighted to be welcoming no fewer than six harp ensembles, who will be performing all over the town: from Bologna, Colombia, France, France again (of course), London, and the Netherlands. 
You can see, from the sheer size of this programme, that Harpes au Max is a real coming-together – of artists we have worked with for years, and those newly-discovered; of all the Camac team, not simply the 'front of house' travelling constantly to events elsewhere; of colleagues and friends, all celebrating the harp together at the heart of our community. 
Want to book tickets? You can do so here!