News
April 4, 2015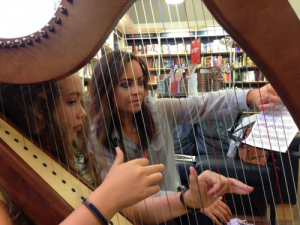 Now here's a great example of the entrepreneurial spirit all musicians need to survive. Charlotte Sager lives in Glasgow, and amongst performing, teaches at St Mary's Music School and Fettes College in Edinburgh. Looking to make a full day's work out of her Saturday commute, she walked into Blackwell's bookshop, found the head of their music section…and asked them if they would consider having harp lessons in the middle of the shop floor.
Within three weeks of teaching in the bookshop, Charlotte was fully booked from 12.30pm to 6PM on Saturdays. Most new students were attracted to the harp window display at the front of Blackwell's or had observed the lessons taking place in public, encouraging them to investigate further.
"The response has been fantastic", says Charlotte. "I was basically looking for a venue to expand my teaching in Edinburgh and I knew that the Early Music Shop in Saltaire had held harp lessons on the shop floor with great success. I teach on the middle floor of Blackwell's – in the basement is a coffee shop where people often buy a drink and then head up to peruse the books and to listen to the harp workshops. The area has been set up comfortably with sofas and a coffee table, providing a perfect setting that, despite being public, is far from intimidating even to the complete beginners!
It's been very beneficial to everyone. I get more students because people are browsing in the shop; Blackwells receive more customers because they've heard about the harp lessons; and the music section is now stocking harp books.
I teach on a Mélusine, which also attracts a lot of interest because it's larger than most of the clarsachs people are used to in Edinburgh. It's definitely helped that I'm in a city that boasts one of the biggest clarsach scenes in the world, but equally a lot of my new pupils  are beginners from age 5-80, and never thought about harps at all until they witnessed the lessons going on. It just goes to show – nothing ventured, nothing gained!"