Latest
May 18, 2019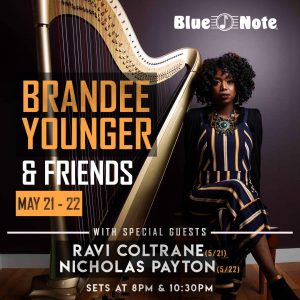 Brandee Younger has a new Big Blue – and a new album! Produced by Dezron Douglas, Soul Awakening has been six years in the making and has a really great lineup. Tenor saxophonists Ravi Coltrane and Antoine Roney are at the forefront with Brandee, two artists she describes as "true mentors."  Brandee also pays tribute to two other idols, performing Dorothy Ashby's "Games" and Alice Coltrane's "Blue Nile" on the album.
"I was obsessed with Alice Coltrane coming up", Brandee remembers. "I had been ever since I started getting interested in jazz harp, with her and with Dorothy Ashby. Right now, it's empowering to be a woman in jazz, but only just right now if I'm honest with you. It wasn't like that before. With Coltrane & Ashby, I saw two women who looked like me: they were women, they were black and they were both playing different styles of music on the harp. At the time I was in negotiations with my teacher, like "If I complete this assignment in the method book, will you let me play this song off the radio…". In fact my teacher was very receptive to all this, but in less welcoming circumstances Ashby and Coltrane were doing the same thing in their day. Alice, of course, was often overshadowed by John. And Ashby recorded on so many records, wrote so much music and released 11 albums as a leader…and many other unreleased albums that were overlooked by labels. Fortunately she saved everything she ever did, and much of this is now grouped together in a single collector archive in California. While all we have from the annals of music history is her music and her archive gives us a picture of her life. She hosted a radio show and had a theatre company whose plays addressed taboo subjects that in 2019, our political administration still can't deal with. Both Dorothy and Alice were trail-blazers. Alice didn't have a producers on her albums, she had full creative control and that was unheard-of at that time."
Mentors and even idols are something that Brandee "feels very passionate about. There's no rule book. You have to seek out people you want to be like, and find a way to spend time with them in one way or another. You have to keep bugging them, if necessary! I met Ravi Coltrane for the first time when he asked me to play at his mother's memorial service, and it was like the stars had aligned. I was obsessed with Alice Coltrane, I wasn't that long out of college, and I was still that classical-harpist-discovering-jazz…you know, saying "how would you like those chords, rolled, plaqué or straight?" Fortunately Ravi is a very patient person, and when I subsequently worked on his next album, he asked me to try and combine the spiritual focus of Alice Coltrane, with Dorothy Ashby's more bebop elements – and Carlos Salzedo, whom his dad had loved. Yes, John Coltrane loved the harp! I think he particularly loved the way Salzedo showcased the harp as a solo instrument. Every instrument has a sound you can't get from anywhere else, and Coltrane was fascinated by the harp's sound and the way Salzedo showed it off.
Antoine Roney meanwhile, is like a walking history book. His brother is the Miles Davis protégé Wallace Roney, and Antoine has always been so generous with his time and advice. I kind of feel there isn't so much mentoring going on among the next generation of musicians and I regret that sometimes. College graduates are very focused on gigging and working as much as possible, and of course we all understand that. Nevertheless, it's important to take time to seek out who you want to be like, and spend time with them. When I was at college that was also easier, because our idols often made themselves readily available. I remember when I went to Ann Hobson Pilot's retirement concert at Carnegie Hall. I was so desperate to get backstage to meet her, I told the guys on the door that my "Aunt Ann and Uncle Prentice" were upstairs. You have to do what you have to do…Ann didn't throw me out, either."
Preorder the album!  The release concert will be at the Blue Note NYC, on May 22nd and 23rd. This will be followed by a tour, details of which you can find on Brandee's site.