Camac's 50th anniversary festival…in Paris!
Latest
August 31, 2022
What better way to mark our fiftieth anniversary than with our favourite type of event: a festival! We warmly invite you to join us in Paris, for an exceptional programme celebrating everything we love most about the harp.

On Friday, October 21, we will begin with a gala concert in the Amphithéâtre of the Cité de la Musique, joined by friends from throughout the world. Here is the star-studded line-up: Mai Fukui (Japan), Mélanie Laurent (France), Kevin Le Pennec (Brittany), Şirin Pancaroğlu (Turkey), Ghislaine Petit-Volta (France), Parker Ramsay (USA) and Michelle Sweegers (the Netherlands)!
Our flagship showroom is a stone's throw from the Cité de la Musique. After the opening gala, we'll transform l'Espace Camac into a jazz club – twice. Friday night is gipsy swing night, as we welcome the wonderful Christine Lutz Quartet.
On Saturday, October 22, we'll begin the day with a lecture to mark the publication of "Erard: Empire of the Harp", a book we have commissioned from Erard specialist Robert Adelson. Professor of Music History and Organology at the Conservatoire de Nice, Robert is the author of the 2-volume History of the Erard Piano and Harp in Letters and Documents, 1785–1959 and Erard: A Passion for the Piano. He has also curated our historical harp collection, and subsequently lectured on harp maker collecting habits.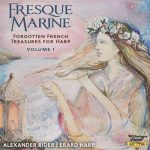 At midday, still in the Camac showroom, Alexander Rider will present his "Fresque Marine" programme, after Tournier's composition op.46 of the same name. Alex has also brought Fresque Marine out on disc, on Willowhayne Records. In Paris, he will play an Erard from the Camac collection.
In the evening, we will return to the Cité de la Musique for a concert by some of France's finest harpists: Delphine Benhamou, Agnès Bérard, Sylvain Blassel, Isabelle Moretti and François Pernel, joined by colleagues the Psophos string quartet, Mathilde Calderini (flute), Manuel Metzger (clarinet) and Jérémie Billet (cello). They will present music commissioned by Jakez François over the years. These works include Hersant's Chorale for harp and cello, Houdy's De cordes et d'archets, and also a 50th anniversary special commission from Bruno Mantovani: Péripéties et conclusion. This will be premiered under the baton of the composer himself. If you are not yet familiar with Mantovani's work, he is the composer of the incredible concerto Danse libre (2017), as well as Tocar for solo harp, and the Quintet for Berthold Brecht (both 2007). Curious readers can peruse our 2020 interview with Mantovani here.
The Camac jazz club is also open on Saturday night, welcoming Colombian jazz legend Edmar Castaneda on the special llanera we designed to his vision, and his colleague Grégoire Maret on harmonica. It's not every day you can experience "harp vs. harp"; Edmar and Grégoire's blend of sound colours is unique and stunning to hear.
Sunday, October 23rd, will be both a musical voyage and a return to our roots. Şirin Pancaroğlu will give a lecture-recital about Turkish harps and harp music. She will be followed by Hélène Breschand, performing "Pandore": a journey into hitherto unimaged soundscapes. We are fortunate in being able to listen to Hélène's concerts frequently (and recorded one, for Les Jeudis de la Harpe). We are always gripped, surprised, and moved.
Finally, our festival will conclude with the homecoming: "Retour aux sources" with Nikolaz Cadoret, master of the Breton Celtic harp.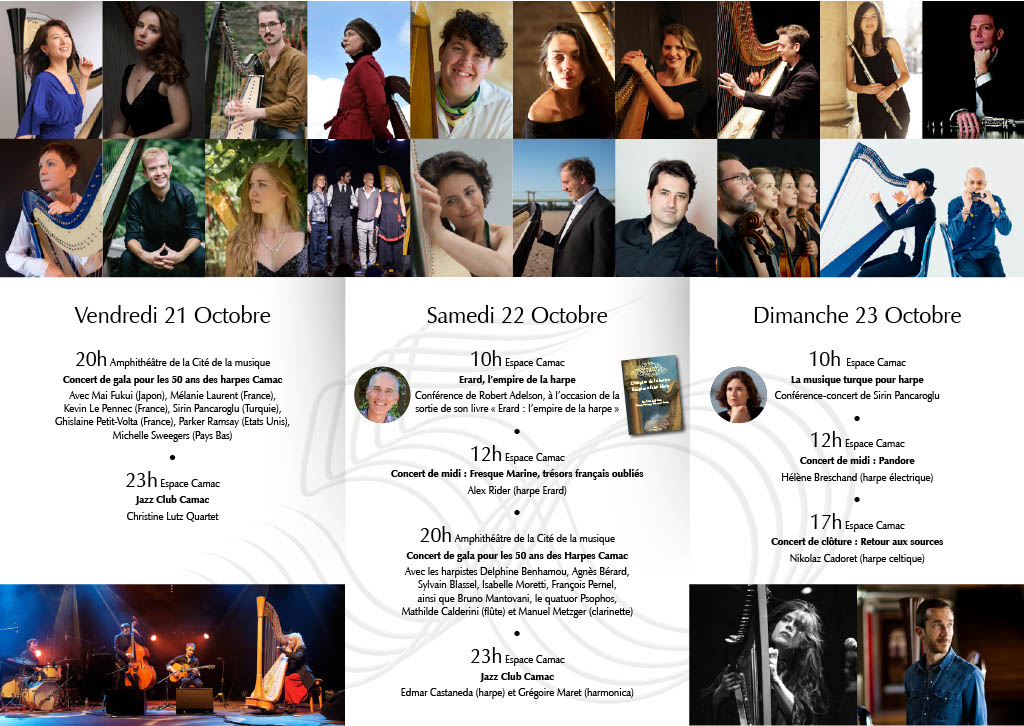 We are fully sponsoring all concerts so they may be free of charge to attend, and we hope this will make them accessible to the greatest number of music and harp lovers. You know what we're going to say next: places are limited, so please reserve your seats in advance to avoid disappointment. You can do this via the online form here.
Throughout our anniversary festival, Camac's founder Joël Garnier will be in our thoughts and hearts. The festival is also dedicated to his memory.
We are looking forward to welcoming you in Paris!