Début recording for Camac's Canopée
Latest
June 14, 2018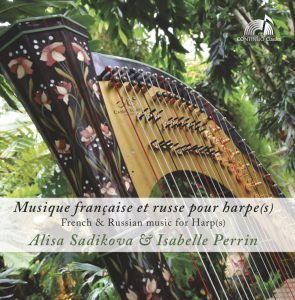 Canopée, our inlaid Concert Grand harp, has received its recording premier – in none other than the hands of Isabelle Perrin, and Russian prodigy Alisa Sadikova. Their new disc (Continuo Classics CC777.730 / 3770000059304) is devoted to Russian and French music: Balakirev, Shostakovich, Glinka, Prokofiev, Walter-Kühne…and Renié, Tournier, Debussy and Bochsa.
As early as the eighteenth century, Catherine the Great established Russia as a major cultural player by expanding educational possibilities, and the arts. By the nineteenth century, Russian music had become nearly as significant as its literature. Glinka, particularly, established a Russian classical music that used Western forms, but did not merely imitate them. His legacy was powerfully continued by 'The Five', establishing Russian national music as part of the classical canon.
Paris (along with Vienna) was also a cultural hub, and all such centres are magnets for each other. Russians, for example Stravinsky, Prokofiev, the painter Marc Chagall and Sergei Diaghilev (founder of the Ballet Russes), flocked to experience everything Paris had to offer. The World Exhibition in Paris in 1889, also brought the music of The Five to French composers, in a series of concerts conducted by Rimsky-Korsakov (the experience left a lasting impression on the 14-year-old Ravel, and his older colleague Debussy). 
Moreover, in the eighteenth and nineteenth centuries, the harp rivalled the piano. Sébastien Erard, in Paris, was a leading manufacturer of both instruments – and his innovations for both remain unsurpassed today, be it the harp double action, or the piano double escapement. The Paris branch of Erard was particularly successful in selling harps to Russia, and indeed Pierre Erard even considered opening a branch in Moscow or St Petersburg. Isabelle and Alisa's recording immerses you in this golden age of Franco-Russian exchange and repertoire, through both original harp works and piano transcriptions, and for two or four hands.