The Highest Concert in the World
Latest
August 31, 2018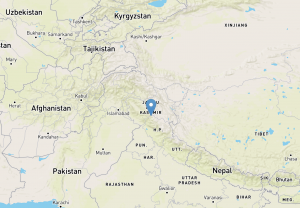 "Getting a grand piano down to the bottom of the salt mine [was] relatively straightforward, but the Himalayan concert could be a little challenging." – Desmond Gentle,  Camden Piano Rescue.
At Camac we love an adventure, and – from Antarctica to Addis Ababa – harpists have plenty. One of our Janet lever harps is now heading to the same dizzy altitude as Everest Base Camp, as part of THE HIGHEST CONCERT IN THE WORLD. This will take place on September 6th, 2018, in aid of the Cystic Fibrosis Trust UK, and the Janet will be played by Siobahn Brady, a prizewinner at our recent competition in London. We are very happy to be sponsoring Siobahn's performance on the mountain, where the harp will join its grand piano big brother. That'll also make moving harps look easy, for everything is relative.
The project is the brainchild of Desmond Gentle of Camden Piano Rescue (who has an impressive history of charitable musical endeavours), along with an international team of artists, organisers and environmental scientists including the well-known pianist, composer and Cystic Fibrosis sufferer Alex Stobbs. 
The Highest Concert follows The Deepest Concert, which took place last year in the Salina Turda salt mine in Romania. Salt mines have highly ionized air, and a higher atmospheric pressure, which are often used in alleviating respiratory problems. As for the highest concert, at 5500m it is difficult to breathe, much less perform, and will require several days of acclimatisation beforehand. Camden Piano Rescue once gifted a small piano to an isolated village school in Lingshed (which was, at 4250 metres, also the highest piano delivery in the world. Michal Sulima has made a 2018 documentary about it). Desmond returns yearly to tune it. "I was shocked", he says, "to find myself go from a strong and independent individual to being someone who had to measure every footstep and fight for every lungful of air." The deepest and highest concerts are now raising awareness of the problems of impaired breathing caused by pollution and illness. 
 Not content with a harp and a grand piano, the THC team will also be constructing a geodesic concert hall out of recycled plastic bottles. The hall will be left as a prototype rescue shelter for trekkers, while the piano will become a gift to the Students' Educational and Cultural Movement of Ladakh (SECMOL).
Another interesting feature of the project is a huge topic for the musicians of today – the role of technology in artistic collaboration. Alex Stobbs has been utilising Microsoft Teams to work online with the artists, thereby avoiding the sort of heavy travelling that is difficult with his condition. "This involves a high definition camera and microphone for superior audio/video quality", explains project communications director Sean Brady, "on a drivable Segway which gives the user the ability to move around to interact with people in a more personal way than a traditional conference call.   The speaker can also boost the user voice for making presentations on stage while limiting distortion so lots of possibilities for directing rehearsals."
It's normal to imagine that instrument makers and restorers live in a kind of bubble, ultra left-of-field, hanging out with their own kind and rarely looking up from their string samples. But Desmond Gentle and his team demonstrate that in fact makers and manufacturers – of all kinds – can contribute to something much broader. Music is not only for musicians; it can express and unify cultures, nourish children's cognitive, motor and emotional development, provide creative impetus for charitable fundraising, draw attention to other issues…and much more. 
The filmmakers of Piano to Zanskar will also be accompanying the musical mountaineers. We are looking forward to their footage already, and wish all involved the very best of luck for such a bold and creative project.