Crowdfunding "Ulyssia", JeanJeanne's first commission
Uncategorized
September 29, 2015
Crowdfunding developments are always interesting, and JeanJeanne ran a great project on the French crowd funding platform Ulule – Ulyssia.
I want to enable video content and agree that data will be loaded from Google (see
Privacy Policy
).
JeanJeanne was formed in January 2015, by Cristine Mérienne (vocals), Alice Soria-Cadoret (electroharp) and Nikolaz Cadoret (electroharp). The trio became a quartet when they welcomed the excellent drummer Yvon Molard (of Plantec, Gwennyn and Forz Penaos, among others). The four musicians evoke "a universe which oscillates between sweet nostalgia, enigmatic modernity and a lightness of touch that can be darker than it looks." They describe their music as "electric folk-rock, via playful detours into Krautrock and electronica. You could also call us a text+pop band without guitar (but, with two electroharps). Concerning what we write and arrange, we particularly emphasise our two electroharps as sole harmonic support. It is a process of intense research into the sound of an instrument still rare in today's musics, but full of fascinating, hitherto unseen possibilities.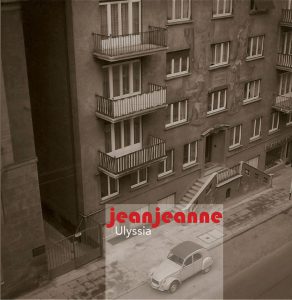 'Ulyssia' is a modern Odyssey, from Brest to Berlin – both once-destroyed towns, who have rebuilt themselves by magnifying their injuries. Through songs shifting between dark nostalgia and raw energy, Ulyssia tracks 1600km of encounters, stories, unusual people, and identities which are lost and found again. Perched on the borders of East and West, JeanJeanne carves out a unique musical universe, calling on the artistic diversity of its artists – rock, classical, contemporary and traditional musicians. Their identity is gleaned from surprisingly rich backgrounds, from the USA to Brittany, via Berlin, where they have lived and worked. Far from toning down this diversity, JeanJeanne dives into these cultural resonances, and also holds onto the clashes." Ulyssia's narrative is about travel, encounters along the way, the destruction of one identity and the construction of another – and love, of course.
Ulyssia is a multidisciplinary creation, adding fields that enlarge and support the spirit of the music. A collaboration is planned with a set designer (the Berlin artist Julio Rölle), a theatre director, a lighting designer and a sound engineer. First performances are scheduled in three venues: the MJC in Douarnenez (evoking the energy and rhythm of a concert); the Pôle Sud in Chartres-de-Bretagne (to perform the show with full staging), and finally, the Factory in Villeurbanne (a reduced version for smaller venues and festivals).
JeanJeanne's crowdfunding campaign completed their budget for the first residency in Douarnenez, which took place between the 26th – 31st of October 2015. The initiative via Ulule was both a way to raise money, and also a chance for audiences to discover their work, and to be involved directly in it.
You can also discover JeanJeanne's sound on YouTube and SoundCloud.