Tara Minton: gig and workshop at the Cambridge Jazz Festival, November 28th 2015
Uncategorized
October 5, 2015
Our UK partners Telynau Vining have just finished their Exeter Harp Weekend – and we're already looking ahead to their next event. This time it's a sponsorship collaboration with us, Camac France, for one of our favourite artists. Tara Minton is a musician whose musical expression is equalled only by her warmth and integrity, and we're very proud to support her with blue harps.
The Tara Minton quintet will be performing at the Cambridge Jazz Festival UK, on Saturday November 28th, and Tara will also give a jazz harp workshop the afternoon of the gig.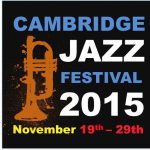 Both at Clare College, the workshop will run from 2PM-5PM in the Garden room, Memorial Court. At 9:30PM, Tara's quintet will play in the Clare College cellars. Ever-sensitive to the atmosphere of a venue, in between the workshop and concert (6-8PM), we will hold a special harp exhibition accompanied by a cheese and wine reception (also in the Garden room).
The workshop is open to harpists of all ages and stages. The first half will be about getting started with jazz on the harp; the second half will explore composition, amplification and maybe even writing a song together! Last, but not least, parking is provided for those who would like to bring their own harp. It is also possible to borrow a harp from us for the workshop (subject to reservation).
Personally I can think of few finer ways to enjoy a weekend in Cambridge than with Tara, her colleagues, our harps, some wine and being able to park my car. Not from Cambridge? Camjazzfest has a helpful online city guide with all sorts of tempting places to stay and explore.
For workshop bookings and harp reservations, please contact Elen Vining at Telynau Vining Harps: [email protected]. Participation in the workshop is free of charge; concert tickets are £5, or included in your workshop place.
[dzs_videogallery id="taraminton" db="main"]