Third Thailand International Harp Festival and Youth Competition
Uncategorized
December 16, 2015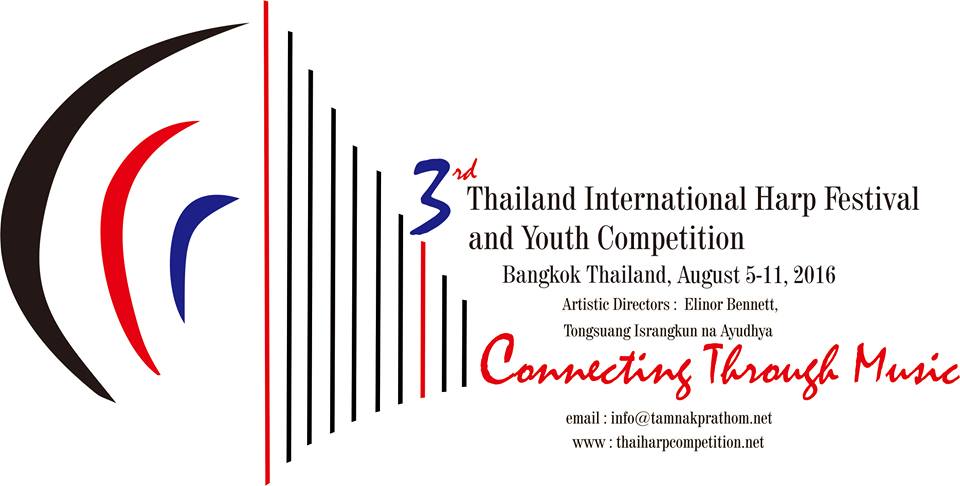 The Third Thailand International Harp Festival and Youth Harp Competition 2016 will be held from August 5-11, in Bangkok. It will be organized by the Tamnak Prathom Harp Centre, with Elinor Bennett and Tongsruang Israngkul na Ayuddhya as co-Artistic Directors.
Isabelle Moretti and Edmar Castaneda will launch the festival's opening Friendship Through Music concert. Each will play their own solo pieces and then combine the classics and the jazz in a performance together! They will be followed by the Winners' Concert, given by Claudia Lamanna, winner of the 2012 Competition, and the closing concert will feature Catrin Finch.
The Youth Competition (seventeen years old and under as of August 2016) is aimed at giving a platform to young harpists who may be making their first steps into the international arena. The competition will consist of two rounds:
Stage One ( max. 12 minutes)
1. Handel / The Harmonious Blacksmith, Salzedo version
2. One of the following etudes by Germaine Tailleferre: no. 13, no. 14 or no.15, in "Le Petit Livre de harpe de Mme Tardieu"
3. Free-choice piece/s chosen from the general harp repertoire
Final Round (max. 15 minutes)
1. A new commission by Catrin Finch (ca. 5 minutes). This will be sent to all competitors simultaneously on April 30th, 2016.
2. Free-choice piece/s chosen from general harp repertoire.
Applications for the competition are now open! For more information, please contact the Tamnak Prathom Harp Centre at [email protected], or consult the competition's Facebook page.