The World Harp Congress, Cardiff: day four!
Latest
July 26, 2022
Monday, July 25 has been a super-busy day for the Camac team, kicking off with a flurry of harp moving to concerts all over the RWCMD. It was great to see several graduates of our sponsorship projects appearing in Focus on Youth: Natalia Skonieczna (Poland), member of the Académie Camac 2022; Martin Sadilek (Czech Republic), a prizewinner in the recent Félix Godefroid Competition; and Janice Hur (South Korea), a Young Talent prizewinner at 2017's Godefroid Competition who also performed solo at our festival in Washington DC. 
The sense of family continued with a concert given by Tajana Vukelić Peić, our partner in Croatia. Together with Peter First, Tajana performed an intriguing duo by Charles Reskin (1946-): Three Gestures for harp and trumpet, and including a spooky Buddhist ghost in the second movement. 
We were sorry to have to miss Rhodri Davies's Experimental Harp performance, having never forgotten his film of burning a harp at the World Harp Congress in Amsterdam (2008). We were, however, cheered by being able to make it to a beautiful performance by Elsa Garcia and Felicitas Geiger half an hour later: a programme of music by women composers from the 19th century. Elsa and Felicitas are both students of Isabelle Perrin in Oslo, and their natural ensemble and choice of fine yet neglected works were lovely to listen to. 
Before lunch, our two Jubilé harps appeared together in concert for the first time, in a stunning presentation by Mai Fukui and Caroline Lizotte. Mai played Reiko Hashimoto's 'L'aile éloignée' ("the distant wing"), for pedal harp and DHC 32. This work is inspired by the composer's love of birds – the DHC is the baby bird! 
Caroline Lizotte then took to the stage to perform her Stellar Sonata Op 51 for electroacoustic harp, on our electroacoustic Jubilé. This received a standing ovation, and there was also time to be treated to an encore: a movement from Suite Galactique. 
After lunch, friends from Paris appeared in the foyer: the Harpo Melusine Ensemble, under the direction of Myriam Serfass. They were followed by Stina Hellberg Agback's excellent solo jazz and equally excellent, dry and thoughtful introductions. Stina likes to play on an acoustic harp with an Ischell Box preamp system, and we all enjoyed the pure and faithful sound this type of amplification provides. The final concert of the day in the (packed) foyer starred Tara Minton and Ed Babar performing music from their latest album, "Two for the Road". Their duo is a truly joy to hear and if you missed it, you can hear many of the songs they played in Cardiff during their recent online concert for our Jeudis de la Harpe YouTube series. 
Sophie Hallynck and her colleagues Isabelle Chardon (violin) and Christophe Delporte (accordion), aka the Phalaena Trio, blew us away with the energy of their playing and the originality of their ensemble sound, and across a fantastic range of repertoire from Scarlatti to Franck and de Falla. If you have a chance to hear them live, don't pass it up! 
Does this sound like a lot of harp concerts? We're not finished: the WHC, home of extreme harping, still had seven or eight terrific events in store for today and your indefatigable Camac team went to them all. We couldn't miss Pluck!, the harp musical created by Katryna Tan and her wonderful students from her Rave Harps studio. Katryna has been writing these since 2012 and they show what standards a group of even the youngest students can attain. The musicals are immaculately staged, entirely performed from memory (including the harp ensemble pieces), and radiate élan, optimism and joy. 
Don't forget that the Camac happy hour starts every day at 17:30; today was the turn of Heather Downie, with a brilliant Scottish trad set for lever harp and vocals.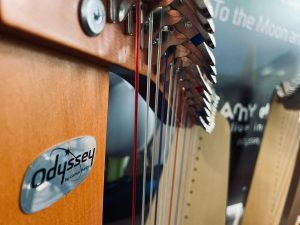 Proceeding along St Mary's St to St David's Hall for the "World of Harps" concert, it seemed like the entire congress was there trying to eat in restaurants quickly. We didn't want to dawdle either: harp music from throughout the world was waiting for us, from Syria (Maya Youssef), Japan (Hiroko Sue), the Gambia (Sura Susso, Suntou Susso and Modou N'Diaye), Venezuela (Leonard Jacome, on the electric llanera we built in collaboration with him), Scotland (Rachel Newton, on DHC 36), and Wales (contemporary folk band, Calan). We also appreciated Catrin Finch's introductions to each, full of interesting facts about the different harp builds and musical cultures. Another hallmark of the World Harp Congress is its many journeys: into the heart of the host country, and also far and wide.