13th Camac Trophy at the Festival Interceltique, Lorient 2022
Latest
May 31, 2022
The Festival Interceltique de Lorient is one of the biggest celebrations of Celtic culture in Europe. It attracts around 800 000 visitors each summer from throughout the Celtic lands: Brittany, Wales, Scotland, Ireland, Cornwall, the Isle of Man, Galicia and Asturias (readers curious to find out more can browse the festival's informative website in either French or Breton).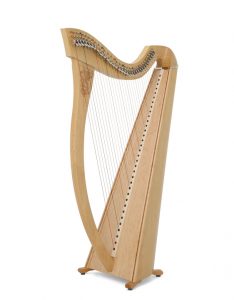 We have been proud to sponsor a Celtic Harp Trophy as part of the festival for many years now. The winner is awarded a beautiful Camac Aziliz harp. The Aziliz is a 34-string harp from the top of our Celtic range, made according to artisan traditions and named after the Breton form of 'Cecilia', patron saint of music.
The honour roll of past winners features many artists we are also proud to have gone on to work with ever since! For example, you can enjoy the "Jeudis de la Harpe" online concerts on the Camac YouTube channel, by: Kevin Le Pennec (Trophée 2019), Klervi Rouyer (Trophée 2018), François Pernel (Trophée 2012) and Nikolaz Cadoret (Trophée 2010).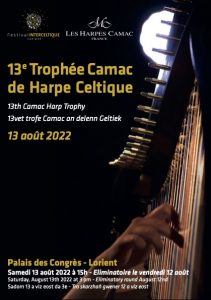 Registrations for the thirteenth competition are now open. You have until July 15th to submit your dossier, and the competition itself will take place on August 13th, 2022 at 3PM in Lorient.
Download the flyer for further information.