Glowing Zagreb: The Glowing Harp Festival comes to Zagreb
News
October 10, 2023
The 10th Zagreb International harp festival will be taking place from 22-26 November 2023. This special event has been jointly organised by the Croatian association of harpists, HATHOR and with the support of Camac Harps, under the leadership of festival artistic director Tajana Vukelić Peić. The festival represents a collaboration with the Ukrainian Glowing Harp Festival, which (under the circumstances) is holding its present edition abroad this year.
Fittingly the festival will be based around a 'theme of synthesis in the arts', and is organised in collaboration with Creative Europe (the European Union's programme of cultural support).
Among performances from the Croatian contingent, we can announce a concert by the solo harpist of the Zagreb Philharmonic Orchestra, Mirjam Lučev Debanić with her colleagues from the orchestra : Martin Draušnik- (concertmaster) and Zita Draušnik (substitute solo cello). There will be a concert by Mirjana Krišković, solo harpist of the Croatian Radio Television National Orchestra, with trumpeter Maria Lončar (solo trumpet of the Zagreb Philharmonic Orchestra), and festival director Tajana Vuklić Peić will give a concert Helena Bernarda Lucić Šego, mezzo-soprano (soloist of the Croatian National Theatre, Zagreb)
Apart from performances by this host of homegrown talent, there will be concerts, workshops and masterclasses from international performers including Isabelle Moretti, Noelia Cotuna and Manja Smits. Isabelle Moretti will appear with the world-famous Zagreb soloists; there will be a special poignancy to this concert, as the Zagreb soloists celebrate their 70th anniversary, Moretti having performed as soloist on the occasion of their 50th anniversary, 20 years ago in Zagreb.
Naturally, there will also be an emphasis on showcasing the outstanding artistry of Ukrainian harpists, such as the inspirational Veronika Lemishenko. Veronika is now harpist of the Croatian National Theater in Osijek (as well as being artistic director of the Glowing harp festival), Larysa Klievtsova-(manager of the Glowing harp festival),  will also perform.
There will also be performances from promising young harpists including: Petra Barišić – Croatia – Netherlands, Tara Franjić – Croatia – Slovenia, Viktoria Smetana – Ukraine – Netherlands, Yelyzaveta Rakovska – Ukraine – UK.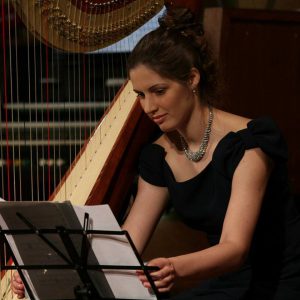 Tajana Vukelić Peić says"we are proud to present a festival of this scale  and to  have the opportunity to host our dear friends from Ukraine and the world. We are especially proud of the many educational events for young artists who have the opportunity to work with world-famous harpists."
If you would like to attend or participate in any of the festival's events, you can find the full registration form and schedule here!