New American Directions with Tasha Smith Godinez
Latest
May 27, 2019
You've only got to read this blog (as you doubtless do every day) to see that @Camac, we're feeling new music right now. Last weekend in Paris, we immersed ourselves in the avant-garde world of the extended/prepared harp; coming up, we're looking forward to the world premiere of Caroline Lizotte's Stellar Sonata for electroacoustic blue harp, the cross-genre emphasis of Harp Rise II, and we're playing Brandee Younger's new album in the office…the ways in which you can approach new music are almost limitless, and they are constantly evolving.
Freedom from boundaries isn't, in itself, a definition of quality. In contemporary music's brave new world, critical thinking is more important than ever. In the grand scheme of things, most older repertoire is probably good: history has done a lot of sifting, and we are left with the best. Even the CPE Bach sonata Wq. 139, which owes its success to lack of competition, must have punched higher than average in 1750. All these works, too, were new in their day. An energetic hive of new music activity, plus a critical process of analysis, evaluation and selection, has always been at the heart of ongoing musical development.
If you're interested in this topic, keep your eye on Tasha Smith Godinez. Tasha is professor of harp at the University of San Diego, and a dedicated new music specialist. She's commissioned works ever since graduating, particularly from American composers.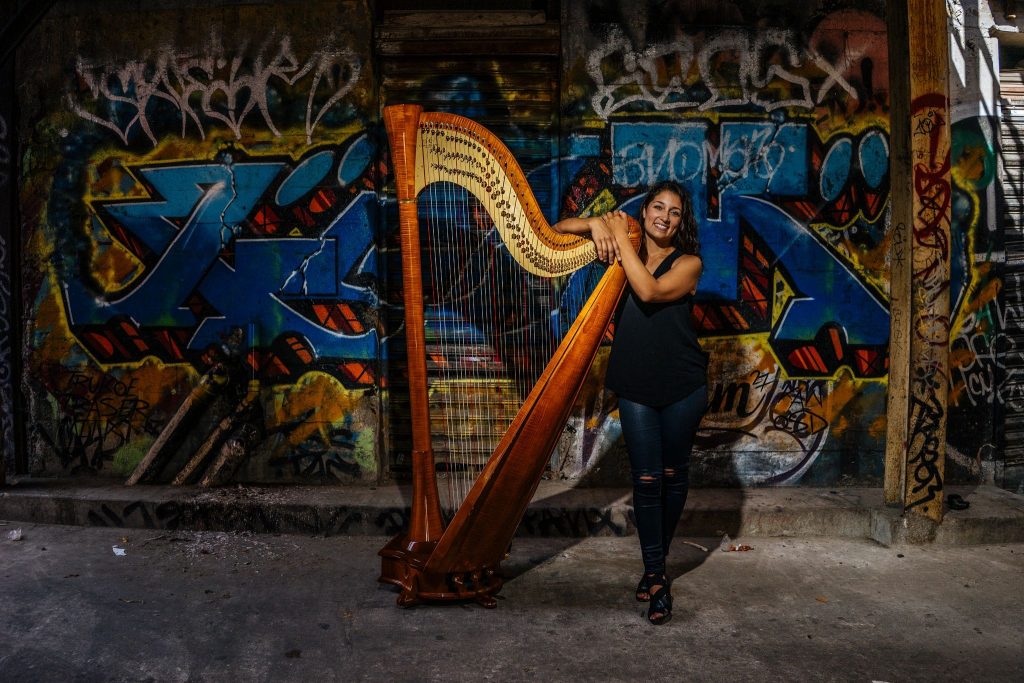 Following a college dissertation on Michael Byron, and supported by a grant from the American Harp Society, Tasha commissioned "In the Village of Hope": a polyrhythmic solo, now out on Cold Blue Music. It's a twenty-five minute virtuoso workout for the harpist, but musically rewarding. It has been widely praised by critics: for its "exotic and idealistic feeling…that seems so elusive in our busy lives", or equally as "a significant brush with music-as-nature, beyond the usual human restructuring". "Michael finds beauty in everything he writes," says Tasha. "He had mostly for piano and strings, and I thought he would write well for the harp." Other commissions and premieres include a three-movement suite in a tango style by Andrés Martín (commissioned through the San Diego Chapter of the American Harp Society), a concerto for harp and wind ensemble by Kyle Rowan (commissioned through San Diego State University) and works by Tasha's duo partner Christopher Garcia (many with Indian and Mesoamerican influences). She is also performing new music by Jose Gurria-Cardenas, Michael Vincent Waller, Christopher Adler, Bekah Simms, Sidney Boquiren and Jon Forshee.
Tasha starts with the composer, rather than looking for somebody to write a particular piece. "I love the process of working with each individual", she explains. "If there's a sound they want and we don't know how to make it, I'll try to find a solution. I always ask them to just tell me what they're hearing, because I want to give that a voice. The composers who are writing now, they represent our generation: what is happening in the world now, what's happening in their own country, city, life…we should be trying to understand our generation, it's part of understanding ourselves. I suppose that's also a reason why I tend to work with American and Mexican composers, because those are the cultures I belong to.
Within that frame of reference, I'm always looking for new sounds. I enjoy playing avant-garde / experimental music, and the way it pushes boundaries of the sound of the harp. But I don't ask composers specifically to write like this, because it all depends on them. I believe that extended techniques, just like traditional ones, should be used because the music truly called for them and not just for the sake of being new. One work I premiered, by Christopher Adler, is for harp and khaen. The khaen is a Thai mouth organ which has a sound similar to that of a Western organ, except you also hear the breath of the player. It's an incredible combination with the resonance of the harp.
Coming up, I've got a programme of six new pieces by five different composers. This will include harp and electronics, incorporation of lighting and stage aspects and in one piece I'll even be wearing earbuds and listening to a piece, while playing another. The composer's idea is to create a kind of meta narrative in sound. There will also be two works by the Mexican composer Jose Gurria-Cardenas…and I haven't received the other scores yet, so you'll have to keep an eye out for the recording to find out about them!
Because I tend to approach composers I already know, I've never yet received a commission I haven't admired and wanted to perform. Of course I also play new music I haven't commissioned myself, and I'll not deny that I wouldn't listen to all of it again. But we have to play it all, to discover the good stuff. Otherwise we won't have any development. If we don't give composers a voice – who will?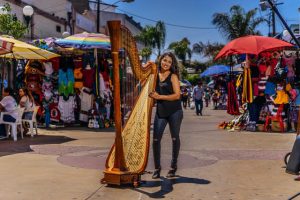 I also find that audiences are very receptive to new music, if you explain to them first what the piece is about, and the background to it. Then it goes over well, even if it's something they would never have picked out of a record collection to listen to. The communication is really important. All of these works we are used to hearing and loving, used to be new! So just as they were performed and appreciated and listened to then, we need to do this now. Anyway, music is communication. When you're playing a piece you never want to hear again, it's often that there's no connection with the listener going on. Sometimes composers forget that music should speak to people, reach out and touch them.
While having a focus on contemporary music and working with composers, I have also been delving into jazz repertoire and constantly revisiting the standard harp repertoire that I studied for so many years. Not one style of music – just making music in every way that I hear and feel in my heart. Music is very personal yet also very public so we must stay true to ourselves in order to make something worth the time of both the performer and the listener."