Review of the Year 2019
Latest
January 16, 2020
Back in action after the Christmas holidays, we're taking a moment to look back on the year just gone. It's been quite a 2019!
We have been busy attending harp events throughout France, and further afield. This is in order to create exhibition and regulation opportunities, and to sponsor and co-facilitate artistic events, in as many different regions as possible. We may think globally, but we have always acted locally: only by visiting harpists in their working environments can we get a proper understanding of musicians' needs, and answer these in the development of our harps.
Pierre Le Levier, your Camac representative for France ex-Paris, set off in the wintry dawn of 2019 for "Harpe en Avesnois", in no less than its 25th edition. Pierre was also delighted to be involved in the Journées de la Harpe à Metz, the Journées de la Harpe de Carnac, Harpes en Loire, La Perrière, Caen, Saint-Malo, and the Camac Trophy at the Lorient Festival Interceltique. Lorient is the biggest Celtic event in Europe; it regularly attracts 800 000 visitors, and welcomes 4500 musicians, singers and dancers to its stages.
The French team were also out in force to accompany our lever harp competition, "Dasson an Delenn". This initiative, whose title means "The Resonance of the Harp" in Breton, is particularly focused on Breton lever harp music: as a company, we are proud of our Breton roots. We began harp-making in the midst of the Second Celtic Revival, in Brittany in the 1970s: to this day, all our harps are made in the same workshops in Mouzeil.
The French harp calendar is also not complete without the Concours français de la harpe à Limoges. We were delighted to celebrate no fewer than ten years of the competition with founders Marie-Monique Popesco and Véronique Chenuet. The Dinan Rencontres internationales de harpes celtiques is similarly unmissable – celebrating its 36th year in 2019! We were very proud that our harps were chosen by headline artists on every night of the Dinan festival: lever harps, electric harps, and even our South American llanera, the latter played by Eduardo Betancourt flying in from the USA. Dinan's exhibition floor is also a good chance to catch up with the many talented, artisanal luthiers making lever harps today. It is a source of great company pride that over one hundred such artisans choose Camac levers for their instruments.
In mid-August, we embarked on a new adventure with our Beijing partner, Duoli Wu, and a large group of Chinese colleagues and clients. Nearly thirty young Chinese harpists arrived in Paris, in the company of Duoli; Guan Wang and Lin Lin Wei, Professors at the Central Conservatory of Music; and Xue Mei Zheng, professor in Guangzhou. Camac's Artist Relations team had organised a combined programme of teaching (from Isabelle Moretti, no less), concerts, and other musical and cultural excursions both in Paris, and around our factory seat in Brittany.
The third weekend of October is always the scene of the Festival Camac, which tours to a different francophone region every year. In 2019, it returned to Toulouse for the second time, for three days of concerts, workshops, regulations and service, and the biggest travelling exhibition of our season. Special thanks go to Fabienne Hilar-Drhouin, Mathilde Sandoz and Dominique Piussan, and their classes de harpe du CRR de Toulouse, du CRC de Blagnac, de l'Ecole de Musique "Axe-Sud" de Roques-sur-Garonne, and the l'Ecole d'Enseignement Artistique de Tournefeuille. They collaborated with Rossitza Milevska on an ambitious "jazz and harp" premier, created for the festival.
In our Paris flagship showroom, manager Olivier Galeraud and his colleague Laurent Canaple have been enthusiastic hosts. Thanks to the kind collaboration of Warner Classics, L'Espace Camac Paris hosted a pre-release signing of Anneleen Lenaerts's latest CD: works by Nino Rota, brought out 40 years after the composer passed away.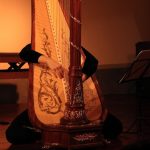 Hélène Breschand and the association "Les Signes de l'Arc" held a creative workshop about prepared harp and contemporary notation. Many thanks to Hélène for leading this workshop, which brought harpists of all ages and stages joyfully out of their comfort zones, and was very enthusiastically received! The day concluded with Jakez François demonstrating the latest developments for Camac's MIDI instrument – and finally, a dynamic and thought-provoking concert by three great names of the avant-garde harpe: Miriam Overlach, Sunniva Rødland and Gunnhildur Einarsdóttir. Morgane Le Cuff visited Paris from Brittany, giving a concert presentation of her new book of traditional Iberian music, and the talented young winners of the Limoges competition also came to perform for us.
Caroline Lizotte travelled considerably further – from Quebec ! – to Paris, to give the world premier of her new sonata for electroacoustic pedal harp. This commission was supported by Conseil des arts et des lettres du Québec, for the promotion of Québecoise culture abroad. Lizotte's extensive, award-winning body of compositions already features the electroacoustic harp, for example 'Danses Métales' op. 47 for electroacoustic harp, or 'Stellae Saltantem' op. 49, a duo for electroacoustic and acoustic harp. The new sonata is the latest evidence of the long friendship between Lizotte and Camac Harps. The company made her a mirror-chrome electroacoustic pedal harp in 2015, after a long process in developing the perfect finish. "This harp is like a symbol of our friendship, our determination, and our audacity!", says Caroline Lizotte. "It has played a big part in the development of my playing and composition. When luthiers make good instruments, musicians become interested in playing them, and composers become interested in writing for those artists and that instrument."
Moving beyond France, firstly throughout Europe: International Sales Manager Thomas Pontoizeau was joined by Tristan Le Govic in Onex, Switzerland, for a fantastic spotlight on the electric harp. Organised by Elise Estavoyer and her association Harpes en Coeur, the Journées de la harpe à Aire-la-Ville and Onex were featured on Swiss television. Elise was celebrating ten glorious years of great work, together with her association generating community for and interest in the harp. We are also proud that two distinguished Swiss orchestras have recently acquired new Camac concert grands: the Musikkollegium Winterthur has a new Canopée, and the Berner Symphonieorchester has just taken delivery of an Elysée, and an Atlantide Prestige.
Heading South, we were delighted to work with Carolina Coimbra on the first Lisboa Harp Seminar, while Camac Ibérica partnered the Festival del Arpa in Terrassa, Catalonia.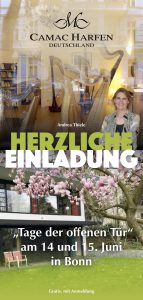 Camac Harfen Deutschland has had a very busy year – including opening a new branch in Bonn, led by Andrea Thiele! Camac Germany has also organised and/or sponsored a variety of events all over the Bundesrepublik. We were general co-sponsors of the Reinl-Stiftung competition in Munich. In May, we took a special selection of our "Janet" Irish harps to the AGM of the German Harp Association – because the AGM took place as part of a German-Irish symposium. We sponsored harp weekends with Ruth Rojahn-Leitz at the Musikschule of the Hofer Symphoniker; in Hannover with Isabel Moreton and Jasmin-Isabel Kühne; at the Folkwang Universität der Künste, Essen, with Verena Volkmer and Ronith Mues; and returned to Tettnang for another highly successful event with Simone-Patricia Häusler, and guest artist Evelyn Huber. Germany is also well-known for its "Harfentreffen", and the summer calendar of Camac Germany is not be complete without one… or more.
Camac concert grand harps have also been the choice of several important German orchestras, for example the Deutsche Oper Berlin, the Bayerische Staatsoper, and most recently the Gewandhausorchester.
In Rotterdam, Camac Harpen Nederland enjoyed an exceptional recital by Marcel Cara, at their New Year's party in January. Marcella Carboni and Brenda Dor-Groot gave two days of jazz workshops in March, and Camac NL supported the long-running "Harp Marathon", a very popular event in the Netherlands established by Edward Witsenburg. Camac's Artist Relations Manager Helen Leitner also visited Rotterdam in May 2019, where she was invited to chair a lecture on business sponsorship in the music industry at Classical: NEXT!. She gave this conference together with Gert Wijnalda, business director of the Dutch Harp Festival in Utrecht.
Still on Europe (for now): we continue to sponsor and organise the national competitions in London every spring, as we have done for over a decade. Telynau Vining, our much-loved partners in the United Kingdom, celebrated twenty years of business development with a special harp weekend in Cardiff. This was a real entente cordiale, inviting some of the most well-known artists from both sides of the Channel. The British side was represented by Caryl Thomas, Head of Harp at the Royal Welsh College of Music & Drama, and co-leader of the host artistic committee at the 2020 World Harp Congress; Heather Downie, tutor in world music at the Royal Conservatoire of Scotland; Natasha Gale, co-organiser of the Wild Strings jazz and pop harp festival in Birmingham; and Claire Jones, former Harpist to the Prince of Wales. They were joined by Isabelle Moretti, who performed in the beautiful setting of the Impressionists' Gallery of the National Museum of Wales. It was quite something to hear Isabelle's stunning rendition of French and Spanish repertoire, surrounded by some of the greatest and most famous works of French art.
Isabelle Moretti performs in the Impressionists' Gallery of the National Museum Cardiff, March 9th 2019
We were also delighted that Parker Ramsay selected a Canopée concert harp for his new recording of the Goldberg Variations, recorded on the King's College label for release in 2021.
Camac has been very active in Asia this year. The 6th Harpfest Singapore, organised by Katryna Tan, our distributor in Singapore & Malaysia, was an occasion "marked with distinct notes of creativity, inclusivity and a sparkle of magic", in the words of those who were there. The achievements of Singaporean harpists over the last fifteen years have been breathtaking, and it has been our privilege to accompany Katryna, her colleagues and her students, in this development. The crowning glory of every Harpfest – the full-length, staged harp musical – in particular has to be seen to be believed. The professionalism of the show, and its joyful, magical subject matter, performed with such enthusiasm by a large group of students, gives an extraordinary effect.Those who could not attend have a second chance to see the show, as it will be performed again during the World Harp Congress in Cardiff 2020.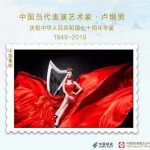 In October, the Camac 'DHC' electric harp also received its very own set of stamps! The Chinese government launched a collection with harpist JiongNan Lu, and her snow-white DHC.
Camac France assisted our partners in the Philippines to host an additional performance of Eric Watson's new harp concerto, and we sponsored the Camac Prize in Taiwan.
On the subject of competitions; we sponsored the second "Glowing Harp" international competition in Kharkiv, Ukraine; the "Petar Konjovic" competition in Novi Sad, Serbia; the Concours Martine Géliot, France; the Concours des Juniors, Monaco; the 5th International Competition of the Harpist Association of Slovenia; and the Fifth International Harp Competition in Szeged, Hungary. Congratulations to all the laureates on their magnificent achievements! Full listings of all prizes in all categories can be found on the Camac blog. The most senior first prize winners are as follows: Anđela Stanković in Novi Sad; Alexandra Bidi (Martine Géliot); Estelle Friedrich and Ondine Lieffroy-Roussel (ex aequo, Monaco), Oliver Wass (Slovenia), and Tatiana Repnikova (Russia). In 2020, we continue to sponsor the Concours International Félix Godefroid in Tournai, Belgium.
Looking ahead: In February 2020, Norway and France will join forces: Camac is accompanying an exchange between Isabelle Perrin's class at the Norwegian Academy of Music in Oslo, and Isabelle Moretti's students at the Conservatoire National Supérieur de Paris (CNSMDP). This will extend the concept of the Chinese musical tour of France, similarly welcoming the students also to Camac's Breton seat, to visit the ateliers and Camac's collection of historical instruments in Ancenis.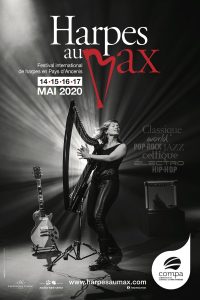 2020 will also be the year of the Académie Camac, an elite course for advanced students, fully-sponsored by the company. The Communauté de Communes du Pays d'Ancenis (COMPA) are also now releasing the programme of their international festival, Harpes au Max. This unforgettable long weekend will take place between May 14 – 17 2020; we provide instruments and artistic direction.
All Camac's activities, in France and beyond, can be followed on our blog, and agenda pages. We try to document faithfully what we are up to! We hope you can find the right opportunities for you, get a sense of how you could propose a joint project yourself, and we want to highlight all the work done by the artists and institutions with whom we work. Usually, our activities are a joint effort. They happen because of the inspiration and industry of all those who have put their faith in our instruments, and who nourish and dynamise cultural activity in their region. That we are in a position to give something back by supporting their initiatives, is one of our greatest sources of professional satisfaction and pleasure.
"Bonne année" to you all! We're looking forward to another great year in 2020.