Les Jeudis de la Harpe, Season VI
Latest
November 29, 2022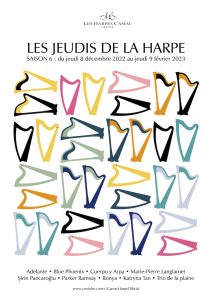 If you follow @CamacHarpsOfficial on Youtube, we hope you already know and love our online concerts. To date, our Les Jeudis de la Harpe series has delightedly published 45 brilliant concerts. Each concert is about half an hour long, broadcast free of charge afterwork on Thursday nights, and celebrates the huge creativity and range of styles throughout the harp community. 
This creativity never shows any sign of slowing down and we are happy to announce the launch of Les Jeudis de la Harpe – season VI!
We'll start broadcasting on Thursday, December 8, 19:30 CET @CamacHarpsOfficial on YouTube. If you can join us for each premier and say hello to us on the chat, we love that! If you're busy doing something else, we're also ardent supporters of online broadcasting's global accessibility – the videos will stay up, so by all means catch up later. 
I want to enable video content and agree that data will be loaded from Google (see
Privacy Policy
).
We're going to start with the Trio de la Plaine – the Trio from the Plains – who are: Murielle Kopff-Vérité (EC Llanera harp), Consuelo Uribe (voice, cello, cuatro, maracas) and Juan Garcia (maracas, cuatro, flute). Take a trip to Latin America and discover the breathtaking rhythms, tender waltzes and vivid, varying colours of Joropo llanero. 
After that, we'll announce who's playing week by week. Keep an eye on our social media @CamacHarps, or (even better) sign up to our mailing list and never miss a beat.