6th International Competition in Szeged, Hungary
Latest
December 13, 2022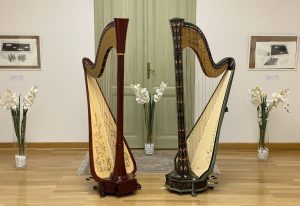 The Sixth International Harp Competition in Szeged, Hungary, has reached its conclusion and it is our happy task to tell you how it went. 
55 candidates travelled through the cold winter to the warm welcome awaiting them at Szeged's Reök Palace. The competition offers three age categories: U14, U19 and U25, and we proudly supply the harps. Juniors compete in one round, U19s in two rounds and seniors in three; as for the repertoire, a composer per category is highlighted to explore, without imposing a prohibitive quantity of set works. 2022 was the turn of the great Hungarian composer and pedagogue Zoltán Kodály, and one of the harp's most important composers and teachers, Alphonse Hasselmans. The opening ceremony features a concert by the previous competition's winner – this year, we could applaud Tatiana Repnikova – and a masterclass is also provided for candidates who do not ultimately find themselves in the final stage. All in all, it is a great way to begin and develop competing at international level. 
Most good competition announcements get rapidly to the point – so here are the results!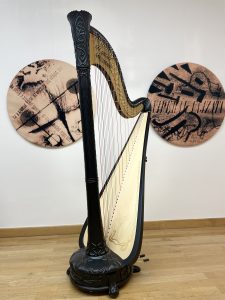 U25 category 
First Prize: Shamim Minoo (Iran)
Second Prize: Zoé Buyck (France)
Third Prize: Irina Pejoska (Serbia)
Special Prize from the City of Szeged: Heather Brooks (UK)
U19 category 
First prize: Giedra Julija Tutkuté (Lithuania)
Second prize: Martin Sadílek (Czech Republic)
Third prize ex-aequo: Silvia Capè (Italy) and Ligia Nowak (Poland)
Sebők György Special prize for the best performance of Kodály's Intermezzo from "Háry János", offered by Florence Sitruk: Giedra Julija Tutkuté
U14 category 
First Prize: Chaewon Kim (Republic of Korea)
Second Prize ex-aequo: Liné Lipnickaité (Lithuania) and Kornelia Harmath (Hungary)
Third Prize ex-aequo: Bei Lin Phang (Singapore), Amelie Jade Kapp (Austria) and Maryam Amro (Serbia)
Sebők György Special Prize for the best performance of the Kodály Children's Dances, offered by Florence Sitruk: Eva Maria Kochs (Germany)
Special Prize from Svetlana Paramonova: Valentina Ramos (USA)
We have been proud sponsors of the Szeged Competition since its beginnings in 2007 (pictured right: an article in our magazine of the time, Harpseasons). Szeged has a particularly brilliant organising team, which has always distinguished itself through its palpable concern for candidates' well-being. Like this team, more than one of us at Camac have been on competition stages, with the inevitable varying degrees of success. Win or lose, we'd say that everyone wanting to help you give your best makes a big difference to how positively you experience the whole event. This supportive atmosphere one of the things we value most in the competitions we sponsor.
In terms of their direct results, perhaps one way to describe competitions is as constellations of circumstances: how you play (on that day), who else is there, and the jury's consensus. None of this is black and white, and you can't control a lot of it. It's therefore a good idea to do and organise competitions for reasons that go beyond winning.
On announcing the results of the U25 semi-final, jury president Annie Lavoisier said this: 
"It is always difficult to choose only three candidates for the final, as each one has different qualities as a musician.
Choosing three candidates was really difficult as the level was so high. In the end, the process is that the sum of the points decides the selection.

I would like to say to all those who were not selected: don't be sad! You are beautiful harpists, beautiful musicians, you are young and you have a whole life of music ahead of you. You have come to Szeged, which is now an influential place for the harp, and you have met people from different countries and cultures. You have learned a lot about yourself, your qualities, your endurance, your courage and your fragility. This is the most important thing; the competition has made you and will make you progress, for sure. The future is ahead of you, keep your confidence, continue your path with joy and love of music."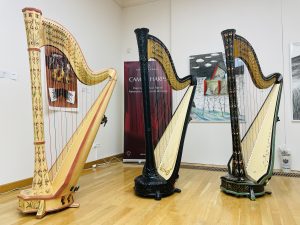 When Natalia Gorbunova founded the Szeged Competition in 2007, she wanted to organise a platform for young harp talent, to open new horizons to the competitors, and to develop Hungarian harp culture. These goals have certainly been reached over the ensuing fifteen years, continued now so beautifully by Anastasia Razvalyaeva who took over the Artistic Direction in 2019. We always look forward to our triennial trip to Szeged. It is a meeting of hearts as well as minds.