Review of the year 2022
Latest
December 31, 2022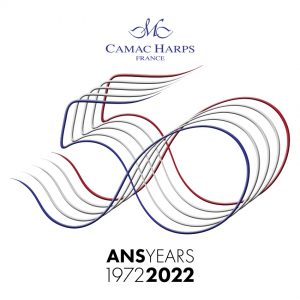 Camac Harps, founded in 1972, was fifty years old this year, so we'd long planned a special 2022! As the world reopened, this activity felt even more precious. 
In Europe, we were fortunate that the start of 2022 already marked a decent return to live concert stages, and also a wonderful selection of new music. The first world premier of the year was Christophe de Coudenhove's En blanc et bleu for amplified concert harp, electroacoustic blue harp and jazz orchestra; another new music highlight Nico Muhly's The Street, now out on the King's College label. 
We were also able to reinstate our busy schedule of touring events. From Burgundy to Saint-Louis, Poitiers to Paris, and the first Danish Harp Days to the Seventh Swedish ones, we are passionate about facilitating events, exchange, and harp access and service close to your homes. Thank you to all the professors, their harp classes, their supportive music schools and our invited guest artists, without whom these events could not happen: Aurélie Barbé, Ismahni Björkman, Sylvie Bouchetière, Marcel Cara, Dorothée Cornec, Heather Downie, Caroline Grandhomme, Kevin Le Pennec, Geneviève Létang, Christine Lutz, Miriam Overlach, Pascal Tressos, Rafaëlle Rinaudo, Sophye Soliveau, Lovisa Wennesz…the roll of honour goes on! 
2022 also saw the return of live competitions. We were proud to be Principal Sponsors of both the Godefroid International Competition in April, the Szeged International Competition in early December, as well as co-supporting the Concours Martine Géliot and the Concours des Juniors in Nice. It's often said, because it is true: throughout the world, the standard of harp playing is constantly attaining new heights. We're constantly impressed and often amazed, especially when we think back to what we were playing ourselves when we were twelve. In any case, the future of the harp is dazzlingly bright. 
A sponsorship project dear to our hearts, the Académie Camac, at last took place after several postponements, in the gorgeous setting of Montbrison-sur-Lez in the South of France. Special thanks to Olivier Troubat for his wonderful hospitality, and of course to course professor Anneleen Lenaerts for a week of teaching exceptional young professional harpists to the highest level. 
In July, THE event top of mind for harpists was the World Harp Congress, and we were proud to launch a new harp on its exhibition stand. Jubilé is our 50th anniversary Concert Grand, designed together with Thomas Hourdain. It is a sculpted harp in multiple facets – like the times we live in today. It is available as a Concert Grand at the top of our range, and in an electroacoustic interpretation. Go behind the design here. 
Beyond the exhibition, we were blown away by the quality of the World Harp Congress's artistic programme: congratulations to Catrin Finch, Caryl Thomas and their organising team on an incredible achievement, which will live long in the memories of everybody fortunate enough to have been there. For those of you who could not be, we tried to keep you posted in our day-by-day updates, still available on this blog. 
After the summer break, the festival spirit continued. October is always time for our annual festival in France, and this year it was our anniversary festival in Paris. In its programme, we wished to pay homage to the past and envision the future, celebrating the  the instrument we hold so dear. We hope you will enjoy leafing through the photo gallery below, which maybe gives a better impression of the festival atmosphere than a lot of words would do. Even better than pictures is music: videos of the festival's gala concerts are up on our YouTube channel. These include the world premier of Bruno Mantovani's "Péripéties et conclusion", composed for the same ensemble as the Ravel septet, and premiered by Sylvain Blassel and colleagues under the baton of the composer. You can also watch Isabelle Moretti's interpretation of the Ravel Introduction et allegro itself, and many other inspiring performances. 
We were also delighted to support and attend many events held by our esteemed partners throughout the world. Carolyn Skyes and her team at Pacific Harps held a very successful, well-attended Camac anniversary festival of their own in Pasadena (in November, so you can imagine the enthusiasm with which the Camac team left cold Paris for sunny California).  Barbara Plachá organized the Prague Harp Festival, also a joyful reunion after the pandemic. Camac Germany welcomed Eva Curth and Duo Meraki to Berlin, Gesine Dreyer to Bonn, and was on the road in Nuremberg, Freusburg, Lübeck and Lohmar. In Rotterdam, Camac Harpen Nederland hosted Edmar Castaneda, Michelle Sweegers, multiple service visits from our French technicians, and  workshops to help you take care of your harp. Camac NL will also soon be tour again in 2023, bringing François Pernel to Middelharnais on January 27-28, and Veronika Lemishenko to Leiden on March 18-19. To round off the year, Tajana Vukelić Peić organised the Zagreb Harp Festival in Croatia. 
Enjoy Les Jeudis de la Harpe, season 6, now playing on a home screen near you! Here is December 15th's broadcast, from Berlin Philharmonic Principal Harpist Marie-Pierre Langlamet.
Online, we have now broadcast over 45 YouTube concerts: Les Jeudis de la Harpe is now in its sixth series and its concept has develop. As it is still that case that not everybody can travel freely, series 5 and 6 have gone on tour, with artists filming in their home countries. Series 6 will continue into January, and if you missed any (or you like to binge-watch them, like on Netflix), they stay up online @CamacHarpsOfficial. 
Finally, our YouTube channel has also published a video reel made by our friends throughout the world on the occasion of our anniversary. We are touched beyond measure by their wishes, and inspired by their stories of our work together over the years. It has been a lovely task to bring them all together! The full reel is here; if you would like to watch the video of an artist in particular, you'll find their dedicated URLs below the video. 
All stories begin, and then evolve. We are always preparing the next chapter, but we never publish it alone. Within the Camac team, with partners, and above all with artists, our future is a shared one. In wishing you all every happiness and professional success in 2023, we hope we'll be able to help build those too.