A Catch-up with Emily Hopkins and a Teenage Kraken!
News
August 16, 2023
Emily Hopkins is somebody about whom we at Camac are really excited. While classically trained, Emily is now heavily involved with the world of effects pedals. Her YouTube channel ( which she created with her partner Russ) serves as a resource for all musicians interested in discovering new sounds; if you want to get involved with electro-acoustic harp playing and effects pedals, Emily's channel should be your first port of call. Emily regularly performs improvisations of original music on harp, as well as incorporating pedal effects into her arrangements.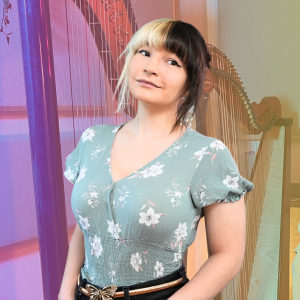 It is her work in this vein that sees her featured in the new hit animation  'Ruby Gillman, teenage Kraken (Dreamworks Animation). For this and other projects, Emily plays on a Camac Little Big Blue 44.
It was another trailblazing artist that inspired Emily to play in the first place: "I started playing harp when I was eight years old after seeing harpist Edmar Castañeda perform at a restaurant here on Long Island, New York. I was absolutely mesmerised by his playing skills, and that was the first time I had ever seen a harp being played in person."
Emily then travelled down the traditional lines of study that many of us follow, starting with private lessons with the late Jeanne Fintz-Goldstein. College studies followed, at CUNY Hunter College in Manhattan, from which Emily emerged with Bachelor's degrees in both Music Performance and Media Studies. However, as she made preparations for graduate studies, Emily reached a crossroads: "Growing up, I performed in a lot of ensembles and orchestras. I performed at Carnegie Hall and played complex classical pieces […] I love classical music, but it never truly resonated with me on a deep level, and I struggled finding my own path."
So, Emily decided to turn down her grad school place and hit the busy freelance circuit. Although, things were already happening that indicated Emily's talent for the unusual: "I successfully auditioned for the Music Under New York program (MUSIC) in 2012, which grants musicians the license to perform in subway stations within the New York public transit system. I started busking around NYC with the goal of getting the harp 'out there' in the world more, in spaces that most people wouldn't expect to see it outside of a concert hall."
Many freelancers will know, a busy and fulfilling career also means many hours of back-breaking work, loading and transporting the full-size instrument, and after a few years, Emily found herself considering a second, lighter instrument: "Harpist Brandee Younger was the catalyst for me getting my Camac harp; I discovered the Little Big Blue 44, and purchased it with the intention of amplifying my music at weddings and events."
Not long after, whilst attending the 2017 Washington DC Camac Festival, Emily was thunderstruck when she heard Addi & Jacq performing using pedal effects- "I still have a photo of their pedalboard!" She laughs,  "I absolutely loved their music, and they were so inspiring that I began looking into effects pedals."
Several years later, and Emily is now an established artist in her  use of effects pedals, in an organic and totally effective manner. Her tutorials and short vlogs have a fresh and delightfully authentic feel.  But how has the journey been, finding a niche and sharing it with many followers?
"It's been such an incredible journey so far, with a lot of ups and downs. The reason I started my YouTube channel was to create a resource for other harpists who wanted to try pedal effects on harp and didn't want to spend a ton of money without knowing what they sounded like. I  have learned how to improvise over time because I was consistently playing through different effects pedals. I wanted to showcase what each pedal effect could do, and I like to keep my improvisations simple for two reasons: to leave a lot of space between notes so listeners can hear what the pedal effect is doing, and to encourage other harpists and musicians — especially if they are beginners — to try effects and not be intimidated."
Of course, there have sadly been occasions where Emily has had to contend with the difficulties of modern internet culture, where those who share their talent in new and unexpected ways are unfairly attacked, or 'trolled' : "There were people coming to my YouTube page to insult me, saying how I was destroying the 'natural, delicate sound" of the harp.' Although I received negative comments, I also received an outpouring of positivity and support. It helped me realise I was doing something worthwhile and interesting."
Encouraged by the acclaim she received from many quarters, Emily continued to task herself with exploring  the many secrets of the  electro-acoustic instrument: "One of my goals as an artist is to break the stereotypes surrounding the harp, because I struggled with my identity as a harpist for a long time, and it took a while to find my own sound. Incorporating pedal effects into my harp music has opened new possibilities for the instrument and continuously challenges the notion of what a harp "should" sound like. Blending the harp's signal with effects pedals can create textures and sounds that most people would not expect to hear from a harp."
Now able and courageous about being her most authentic self, Emily has found that fabulous opportunities come her way, even from the most unlikely sources…
"I made a demo of a fun thing known as "The Fart Pedal", which is a silly effect pedal that plays fart sounds over any audio signal, including the harp. I shared it on my channel because of how much it made me laugh, and having such fun with the harp is a reflection of how I approach music. The response for the video surprises me constantly; Stephanie Economou, who composed the score for Ruby Gillman, Teenage Kraken reached out to collaborate with me because of it!"
For any harpist, working on such a high-profile feature as  Ruby Gillman is a very exciting achievement, and Emily plans to expand her presence in film with the electroacoustic harp: "Because the harp has such limited representation in media, I love hearing and seeing it appear in films and video games. I have a few big projects currently in the works under NDA, and electroacoustic harp is a major part of those projects. My Camac Little Big Blue was the only harp I used during the recording for Ruby Gillman, Teenage Kraken, My Little Big Blue is especially wonderful because I can use the four outputs and blend my sound in various ways. I love experimentation, and I enjoy mixing the harp with unexpected elements like modular synth. I'm very much looking forward to seeing where my electroacoustic harp journey takes me in the future!"
In the meantime, Emily is working on a host of other projects: "Right now I'm working on the soundtrack for a video game that is still in development, along with a few new albums that will be published to streaming services and Bandcamp. My most recent EP, called Tournesols, is a collaborative work that features musician Courtney Swain. These pieces were recorded live in my studio with my Little Big Blue being run through effects, and these were very special improvisations that were captured in the same room on the first take to organically preserve these moments in time."
Emily has accomplished that most difficult thing, to use technology and modern platforms to bring us into her world and draw us closer to her art:  "Helping other harpists, composers, and musicians learn about the world of pedal effects not only helped me discover and express my artistry, but my confidence in it as well. I want to use my electroacoustic harp to show other harpists that there are other, less traditional paths you can take in your musical journey, and if you don't end up as a harpist in the Philharmonic Orchestra, it doesn't make you any less valid."
If you'd like to share in Emily's journey, you can find her on YouTube at https://www.youtube.com/emilyhopkins, or on Instagram at @emilyharpist.